How to find your trading style
There are tens of thousands of financial markets and almost as many ways to trade them.
To maximise your chances of trading success you need to find a trading approach that meets your appetite for risk and your ambition for returns, but also makes the most efficient use of your time. So the first question you should ask yourself if not what do you want to trade, but how do you want to trade?
---
Step 1: Assess your trading strengths and weaknesses
Trading is a unique learning journey during which you need to take time to assess your strengths and weaknesses in an honest way. No trader is ever the 'complete package' so your goal should be to choose the right trading strategy for your skills and talent. By matching your personality, goals, risk tolerance and trading philosophy you'll be able to trade with increased confidence. And once you have confidence in your ability you can tailor your trading approach to make the most efficient use of your time.
Many new traders start by learning a standardised approach, applying fundamental or technical analysis learned from a mentor or online educational resource. This makes complete sense as it provides a simple way to learn the basic skills needed to start building knowledge of the markets. But beware of clinging onto a standardised approach for too long – to succeed over the long term you need to develop a trading style that makes the most of your own innate and unique skills.
---
Step 2: Consider your trading timeframe
A good place to start when determining your trading strategy is timeframes – over what periods do you want to trade?
Do you enjoy the markets because they are fast-paced and volatile? Or do you like to take things more slowly with long term views and deep analysis on each trade? There is no 'right' time frame - choosing the best time frame for you depends on your personal style and strengths.
Short term trading (Day trading)
Short term traders, sometimes called 'Day Traders' typically base their decisions on technical analysis using charts with very short timeframes of 1 minute, 15 minutes or 1 hour. They generally hold trades for a maximum of several hours and typically exit all their positions before the markets close to avoid overnight exposure to market movements. This type of trading offers lots of opportunities and aims to capture lots of very small profits. And because you're not holding positions overnight you can typically set tighter stops which in turn allows you to make increased use of your account balance and margin with larger numbers of trades. But transaction costs can quickly add up when you are trading high frequency for small returns on each trade so Day Traders need to be very conscious of their trading costs.
Many new traders start with intra-day trading, attracted by the large number of trading signals and not wanting to hold positions overnight. But this type of tactical trading can be mentally challenging over time as you need to be constantly monitoring the markets and be highly flexible to take advantage of constantly changing opportunities.
Medium term trading (Swing trading)
Traders with medium term horizons tend to use similar strategies and analysis approaches to Day Traders but apply them to daily and weekly charts. This type of trading is sometimes referred to as 'Swing Trading'.
A strategy that holds positions for days, weeks or months is much less time intensive to manage than an intra-day trading strategy, and less mentally challenging. You won't need to watch the markets avidly intraday, but on the flip side you need more patience. Sometimes markets won't present the type of opportunity you're looking for and you can be tempted to place trades that don't meet your criteria to keep 'in the market'. It can also be tempting to snatch profits before your trade has run its full course, limiting your profits. To keep your trading strategy on track it is important to make a trading plan and stick to it.
Developing your trading plan
Just as a business plan is an essential component for starting a business, a trading plan is essential to define your objectives and approach to trading.
Long term trading (Position trading)
Long term traders are looking for major shifts in prices over time periods of weeks, months or even years and tend to use weekly and monthly price charts alongside fundamental and economic data and news. These trading horizons also open up the opportunity to bring expert views and analysis such as analyst forecasts into your decision making.
Using multiple timeframes
As a trader with a medium or longer term view you can use a combination of different time periods to analyse an opportunity, for example using the same technical indicator across a daily chart to verify a trend then an hourly chart to define your precise entry or exit level. Using multiple timeframes like this can give a better view of the big picture and is a technique commonly used by more experienced traders.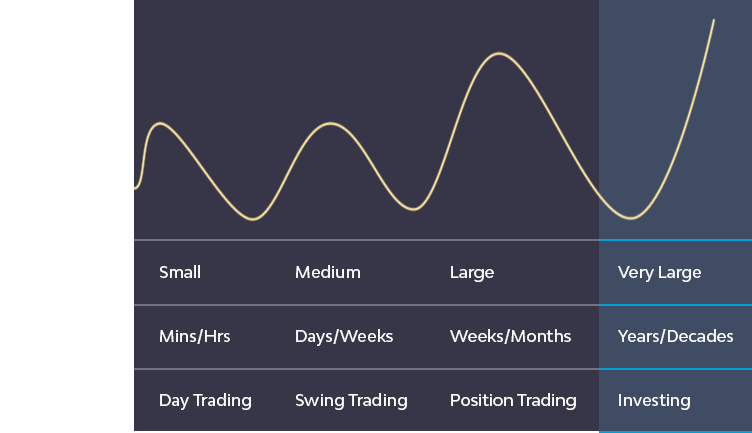 Step 3: Pick the best trading strategy for you
Having decided on a time frame that will suit your lifestyle and personal characteristics, the next step is to consider your trading strategy. There are almost as many ways to trade as there are markets to choose, and the way you apply any strategy will be unique to you, but a good place to start is understanding three of the most popular trading strategies.
Trend following
The 'trend is your friend' is a well-known trading phrase, but why is this? Market prices are objective data which no one can argue with, and trends exist everywhere. A trend follower uses technical analysis to identify developing price patterns and follow them. This type of tactical trading is reactive in nature, does not try to predict where the market is going, and has no view on inherent value or wider market conditions – it simply aims to find and follow an existing trend.
A trend following trading strategy relies on the wisdom of crowds as it takes advantage of mass psychology. And the key to success is to think process and not outcome as it relies on strong self-discipline to follow price rules.
Counter trend following
As the name suggests, a counter trend trading strategy assumes that a current trend will change direction. The majority of counter trend trading is looking to sell overbought levels and buy oversold levels in an effort to harvest market volatility, over large numbers of short duration trades.
Counter trend traders thrive in markets with a lot of choppy, back-and-forth price movement, sometimes referred to as market 'noise'. This can occur when volatility is both low or high. Fundamental analysis can a play a big part in this trading style as news events are a rich source of market noise. Markets react very quickly to news events, but often they do not perfectly account for the information in that event creating opportunities for traders.
Interestingly, unlike trend following systems which can have sustained periods of high positive or negative correlation to the markets they are traded on, counter-trend trading typically has consistently low correlations to markets being traded.
Understanding volatility
What drives it, and how to make it work for you... Read more
Event driven trading
As we touched on earlier markets react quickly to news, and event driven traders use this to their advantage. This type of tactical trading requires a trader to comprehend news in a microsecond and act on it instantly. Decisions are made considering the source of news, a view on whether the market has already priced in the information, and market expectations and reactions.
There are many different events that can cause an asset's price to change so event driven traders use a combination of technical analysis and fundamental analysis to predict how a market will move in response to a particular piece of news. As a stock trader for example you might focus your analysis on earnings calls, possible mergers and acquisitions, and management changes. These events need to be studied to understand patterns over time, which means preparation is key.
---
Step 4: Your analysis technique: Technical or fundamental?
Underpinning virtually all trading strategies are two distinct strands of analysis – technical and fundamental.
Technical analysis
Technical analysis is interested in the 'what', as opposed to the 'why'. Traders the world over study price movements using charts believing that history repeats itself and the market price discounts everything.
In essence, technical analysis gives us clues about levels of supply and demand, and its aim is to identify recognisable patterns that will help traders find the right time and price point at which to enter and exit the market. It can be applied across all markets and all timeframes, and importantly it allows traders to establish clear risk management.
Fundamental analysis
The 'trend is your friend' is a well-known trading phrase, but why is this? Market prices are objective data which no one can argue.
Fundamental analysis is more concerned with how human behaviour affects markets in terms of decision making from policy makers, company directors and central banks.
Whatever affects an economy's strength, be it political, social or economic factors, matters to traders using fundamental analysis. Both macro and micro economics can give you a deeper understanding of business, sectors and the economy. This encompasses all manner of information like economic data, company earnings and the intrinsic value of a company's stock to name just a few.
At a basic level its easy to have a view on how the new iPhone might affect sales, or what a bumper jobs report might do for a country's currency, but a deeper understanding of economic data, news reports or financial statements will allow you to build a more credible opinion.
For many traders a combination of fundamental analysis and technical analysis works well. Understanding the fundamentals gives a broad picture of market direction while technical analysis helps define when exactly you should open and close a trade.
---
Make that trading style and strategy your own
Markets are determined by a myriad of different factors, but your trading style and trading strategy are determined by you. Choosing which approach suits you best will go a long way to boosting your enjoyment and confidence when trading. And if you enjoy and feel confident with your trading style you're likely to achieve outcomes you're happy with.