EUR/USD hits long-term lows and trendline support
We wrote a month ago that the euro's failure to break above the August low at 1.1665 on a number of occasions pointed to persistent selling and bearish pressure on the single currency going forward. Well, that's exactly what we have seen, with the world's most traded currency pair sinking to fresh multi-month lows this week.
The debate on faster Fed tightening has gradually returned to the forefront. An increasing amount of Fed officials are debating the inflation conundrum which looks to be turning in favour of "team persistent". That potentially means faster tapering of bond buying and rate rises sooner than policymakers currently expect.
The reappointment of Fed Chair Powell also boosted the dollar and helped EUR/USD sink further. Remember, he is seen as a dove on the FOMC, but was perceived as more hawkish compared to Lael Brainard, the other candidate for the Fed head. Markets are now pricing in a 25bp hike in June, with two more hikes by the end of next year.
Where Austria goes, so too the rest of the region?
A new nationwide lockdown in Austria has seen investors flee the single currency, in fear that the rest of the bloc, including Germany, will follow suit.  Austria has acted as a decent leading indicator for daily infection rates and social restrictions. Similar measures will see the eurozone economy close out this year and start 2022 on a weak footing.
The European recovery is lagging the US at present and the prospects of returning to where we would have been without the pandemic are darkening now. All indications signal additional, and probably longer lasting, supply chain disruptions and new lockdowns being rolled out.
Even though we've seen decent beats in Eurozone PMI data this morning, there will be ongoing concerns around the outlook. Indeed, the surveys say that business optimism has sunk to the lowest since January, adding to near-term downside risks for the eurozone economy.
Short-term oversold, long-term downtrend
This morning, the pair has made lows not seen since July 2020 at 1.1226. But prices are now trading just above long-term trendline support which goes back to the July 2008 top.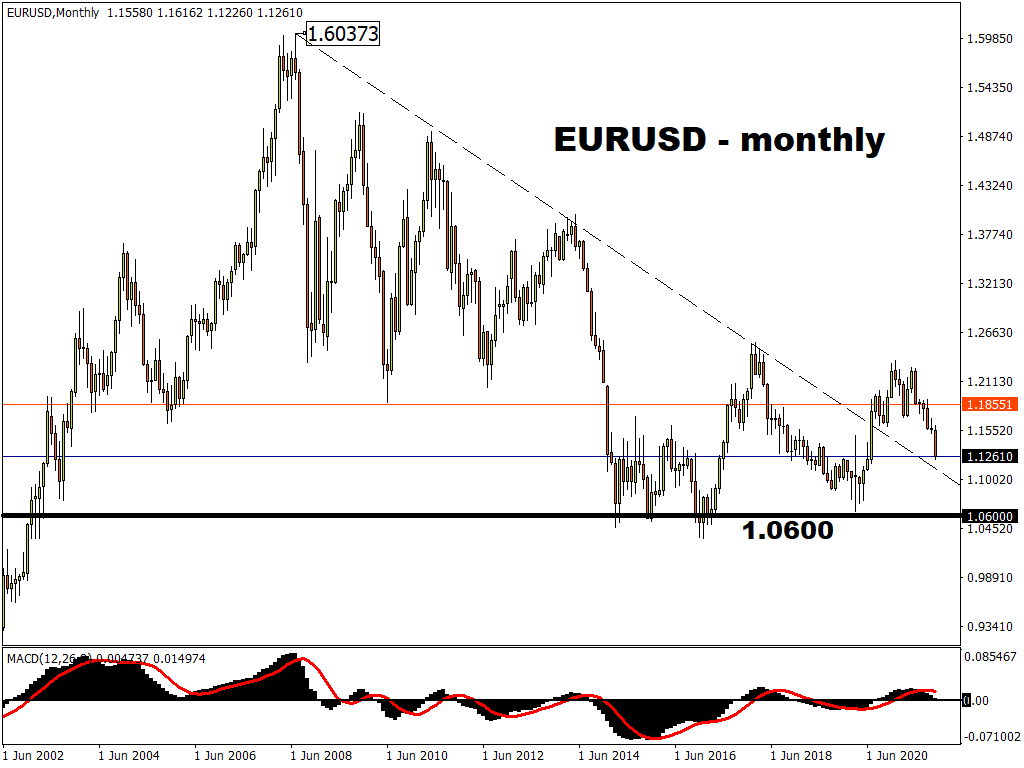 Technically, the five-month EUR/USD downtrend was only challenged on a couple of occasions in September and late October. We've seen a rapid selloff since support around 1.1513/24 was broken decisively a few weeks ago. We are now trying to ease back from oversold conditions on the daily RSI. Buyers will need to move above 1.1374 to counteract the current strong bearish momentum.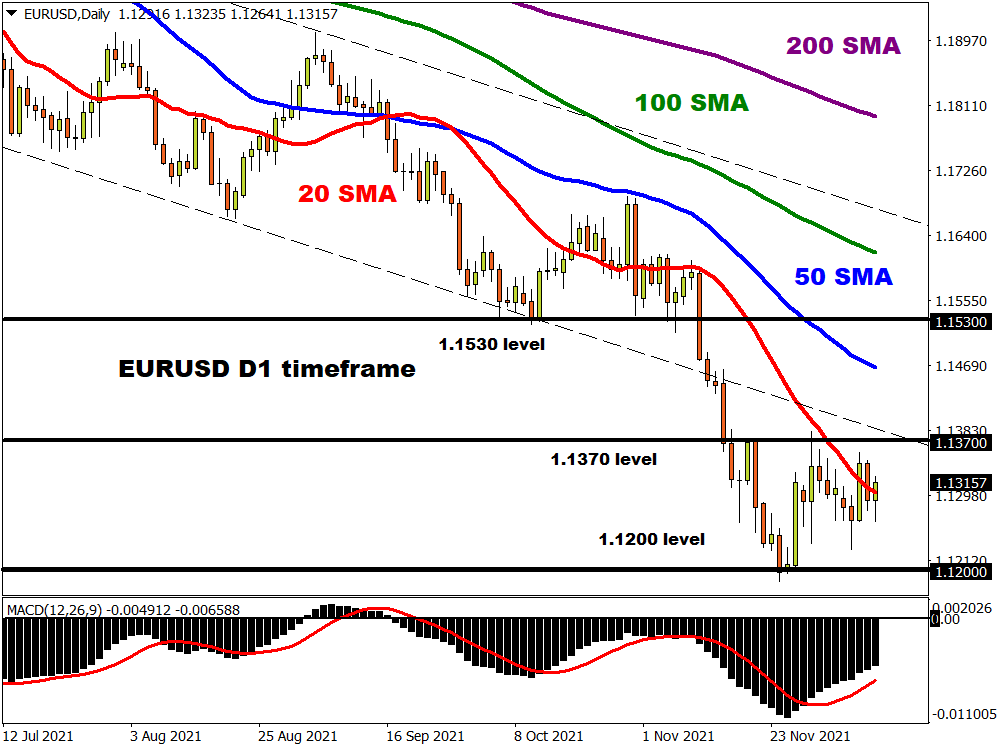 With the core PCE data and FOMC minutes due tomorrow, there is much to keep prices volatile. Risks are skewed to the downside with a decisive break of long-term support at 1.1223 paving the way for a move towards next support at 1.1170.