Gold holds ahead of FOMC minutes
Gold bulls are battling to push the precious metal higher, having already registered a new three-month high yesterday. Bullion's struggles on Wednesday coincide with a dollar index (DXY) that's straining to retains the psychologically-important 90 mark, with global markets keeping a watchful eye over the FOMC minutes release.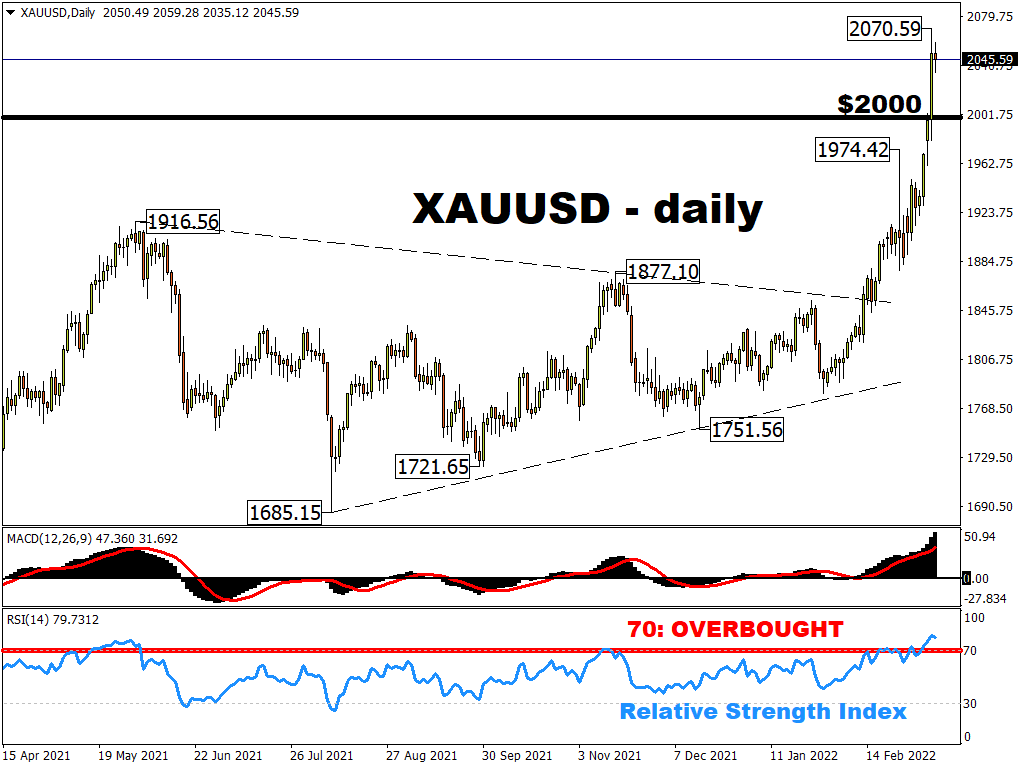 From a technical perspective, there is reason for a pullback. Its 14-day relative strength index is hovering around the 70 mark which indicates that the precious metal is overbought. Some of the froth may have to be cleared before gold can climb another leg up.
At the time of writing, spot prices are up 5.7% on a month-to-date basis, though remains about 1.5% lower so far in 2021.
A more notable pullback may see spot prices testing the 200-day simple moving average (SMA) as a support level, while threatening to drop back into its downtrend that has been in place since setting a record high back in August.
Still, gold's allure has not been lost on investors and traders. Over in the gold options market, there have been some notable trades struck at $2525, set to expire in a year. Gold ETFs have also raised their gold holdings for an 8th straight session, the longest streak of additions since 6 January.
Such has been the bullish sentiment surrounding the precious metal of late.
Gold sensitive to any FOMC minutes surprise
The main highlight of today's economic calendar is the release of the April FOMC minutes, though it is unlikely that it'll offer any earth-shattering insights into the Fed's thinking. Since that April 27-28 meeting, the chorus of Fed officials have been singing from the same hymn book, pledging the Fed's willingness to tolerate any inflation overshoot, which it deems would be "transitory" anyway.
Such a refrain has formed a conducive environment for gold to explore more of its upside, with such ambitions emboldened by a weaker US dollar, stabilizing US Treasury yields, and the turmoil in cryptocurrencies (which had been vying with gold as the preferred hedge against inflation).
Should there be surprise hints contained in the FOMC minutes about policymakers' inflation outlook, and their potential policy responses, that could jolt gold prices.
Any discussions at the April FOMC meeting about the potential tapering of bond purchases, which would pave the way for an eventual rate hike, could give cause for gold prices to unwind recent gains. However, should there be stronger cues contained within the minutes, beyond the slew of Fed speak in recent weeks saying as much, that the Fed is still a long way from adjusting its policy settings, that might embolden bullion bulls to spur prices even higher.