Oil looking to build on impressive rebound
The oil market has seen a decent upturn since prices spiked lower a month ago. After Omicron fears took Brent crude prices from around $82 to the early December low below $66, prices have recovered well, even allowing for the wobble just prior to the Christmas period.
Technically, prices have paused in a bullish consolidation pattern that signals more upside to come if the bulls can break above $80.22.
Demand and supply issues support prices
Since mid-December, Brent has rallied by more than 10% with the price of a barrel now close to the $80 mark.
The key main driver has been the growing belief that Omicron is now less deadly than previous Covid-19 variants, which means it is more manageable.
This has eased demand concerns, although governments have reacted differently as infections have increased to record levels in their own countries. Much attention is on China and their zero Covid policy with questions around how that can be maintained going forward as cases flare up.
Also helping push prices north have been supply disruptions which have more than offset the agreed supply increase from OPEC+ members over January. Libya's biggest oil field has been shut with production falling by 350k barrels per day, while a damaged pipeline has seen output fall a further 200k, according to Bloomberg reports.
OPEC+ expected to stick to planned February output plans
The more optimistic demand outlook and the ensuing recovery in the oil market points to OPEC+ continuing to increase supply as planned.  The cartel is scheduled to meet later today, and consensus sees the group expanding production by the already agreed 400k barrels per day. Any changes to this would certainly surprise the market.
Bullish consolidation could see prices push higher
After the two recent selloffs pushed prices below the 200-day simple moving average, Brent crude prices have moved above this indicator and will now rely on this as strong support, currently around $73.97. Prices have also advanced above the 100-day simple moving average, and the long-term trendline from the pandemic low at $77.63, which will act as near-term support.
Most recently, prices have been tracking sideways around the 50-day moving average as they pause for breath after the strong bullish rebound. This consolidation looks like a continuation pattern ("bull flag") in the longer-term uptrend. If the move to the upside breaks $80.16/22, then bulls should target $81.89 and $82.40. The cycle high sits at $85.79.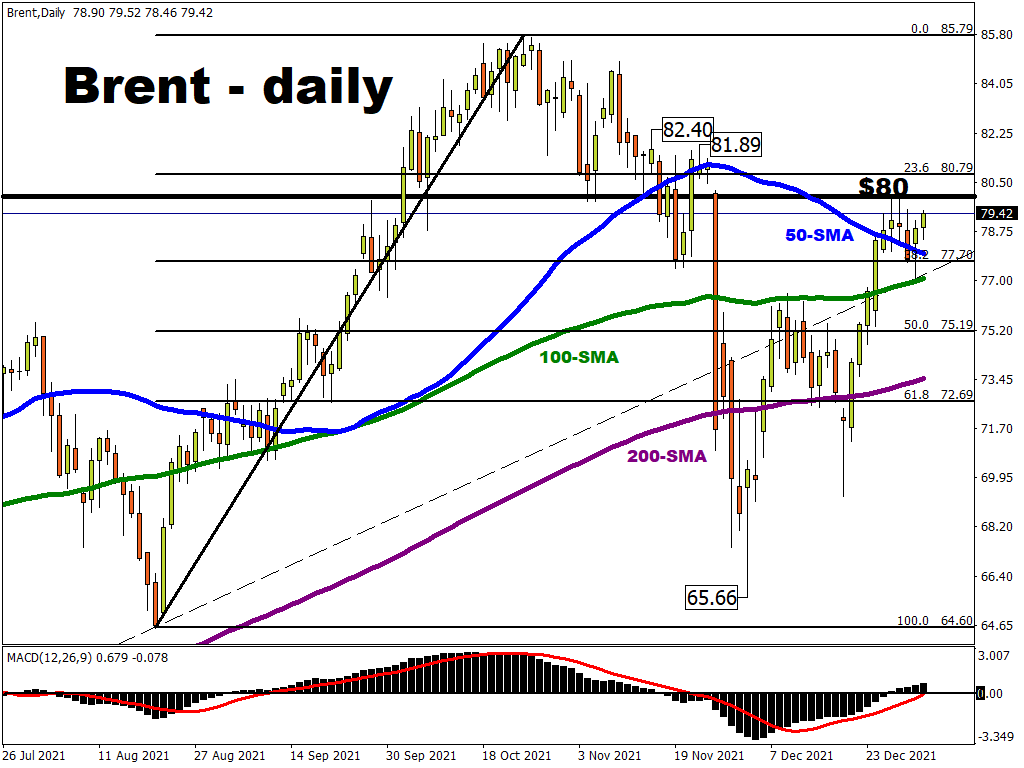 We note one of Blackrock's Ten Surprises of 2022 is major oil-producing countries not being able to increase production enough to meet demand. This sees the price of WTI confound forward curves and analyst forecasts when it rises above $100 per barrel.