Oil tumbles below key long-term support
It's currently a very volatile time in markets with oil prices bearing the brunt of the concerns over the new Covid-19 variant. The resulting travel restrictions have weighed heavily, with numerous countries now imposing travel bans on flights from parts of Southern Africa. The resultant hit to air travel comes in the week of the next OPEC+ meeting, which was already significant in light of the reserve releases by the US and key consumers last week.
OPEC+ decisions in the middle of huge uncertainty
The group has already delayed its Joint Ministerial Monitoring Committee and Joint Technical Committee meeting to later in the week in the hope that more information is forthcoming about the Omicron variant. The full ministerial meeting still plans to go ahead on Thursday. The cartel has already agreed at its last meeting to increase output by 400k barrels per day in December, so any decision made this week will likely take effect in January production levels.
The latest Covid developments will make for an interesting week for ministers. After the slightly underwhelming coordinated SPR release, there is now much uncertainty about demand and the potential hit going forward. The group has consistently taken a cautious approach since the initial outbreak of the pandemic so it wouldn't be a surprise if there is a pause in current supply increases.
Bearish move breaks down through key levels
After trading up above the 50-day simple moving average last week, prices collapsed on Friday with Brent settling more than 11.5% lower on the day and closing at its lowest level since September. Sellers crashed through several support levels including the November low at $77.62, the 100-day moving average and the midway point of the August to October move at $75.72.
Friday's close settled below the long-term 200-day simple moving average at $71.60. Markets took a more positive turn yesterday with Brent trading almost 6% higher at one stage and getting close to the 100-day moving average at $76.40. But in the end, crude finished lower and today we are trading down again with the Moderna CEO's downbeat comments grabbing all the headlines overnight.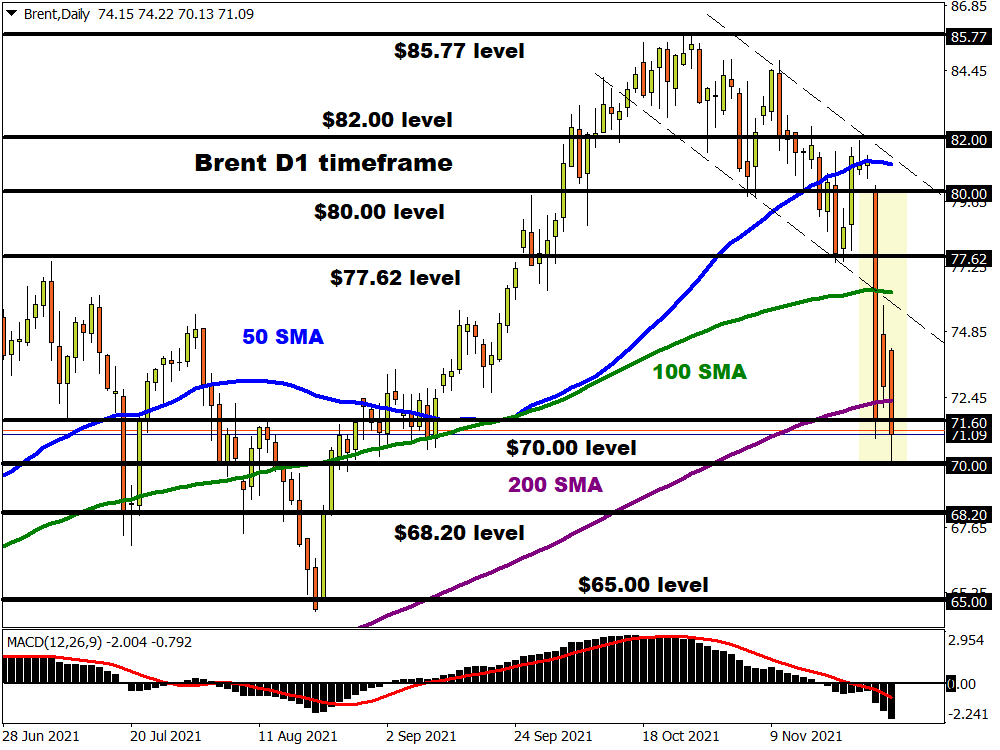 Variant volatility into year end
Omicron fears and hopes of more positive news will drive markets in the near term. Scientists are expected to take a few weeks to draw solid conclusions, so we are all amateur epidemiologists for the time being, watching the wires and listening to various experts.
The 200-day SMA at $72.30 will act as initial resistance / support. If news and speculation continue to be poor, crude bears will target $70.44 and then the July low at $67.46. Major support sits at $64.76. Of course, markets can turn quickly with resistance above the long term SMA at the 50% retrace level of the August/October move at $75.72.