Stock of the week: What's next for the Food and Drink sector?
The repercussions of last week's Fed meeting has sent shock waves through financial markets, the rapid unwinding of the reflation trade, the sharp flattening of the US Treasury yield curve and the biggest weekly rise for the dollar in nine months, left individual equities in the shade.
However, we think that there are some important themes that traders need to be aware of in equity markets right now, and one is changing consumer behaviour. The consumer is a key driver of equity markets around the world as growing middle classes and larger service based economies are fuelled by consumer spending. Thus, when consumer behaviour shifts, traders need to take note.
We are going to take a look at UK supermarket's, particularly the big hitters – Tesco and Sainsbury's – and find out how structural shifts in consumer behaviour will impact their share prices. We will also look at the impact celebrities can have on a brand, particularly after Coca-Cola was stung earlier this week.
The issue for Tesco
Tesco's share price fell sharply at the end of last week after UK retail sales for May saw a sharp fall in food sales and Tesco announced that its sales in the three months to the end of May had grown by 1% as a whole, and 0.5% for the UK. This was particularly gloomy compared to last year when sales rose by 8% in the same period. The outlook didn't look much better, which we think is down to a few factors.
Firstly, the re-opening of the UK economy has weighed on grocery spending and pushed up spending on social eating in restaurants and bars. Secondly, base effects are going to look pretty bad compared to 2020, when grocery sales reached record highs on the back of panic buying and the first wave of the Covid pandemic.
Lastly, while Tesco's online sales soared by 22% in the first quarter, this is largely a result of extra capacity coming on board due to previous inadequacy in relation to online sales, thus the boost to online sales was unlikely to give Tesco's overall sales a major uplift. The other worrying part for Tesco was that sales in its banking unit fell 10% for the three months to the end of May.
Is Sainsbury's the UK's answer to Amazon?
These days, for a traditional supermarket to be successful it has to follow Amazon's model: to have a strong and established online presence and to have a varied retail mix. Amazon is an extreme example of this since it is a grocery retailer, fashion designer, movie maker, cloud computing giant as well as a logistics and delivery powerhouse. While there is no direct UK rival to Amazon yet, Tesco's direct competitors are showing signs of outperforming Tesco when it comes to a varied retail mix. As you can see in chart 1 below, Sainsbury's share price has outperformed Tesco for most of the last three months.
We think that this is down to its more varied retail mix – Sainsbury's owns Argos, which has helped to neutralise the shift away from consumer spending on groceries to consumer spending on household items, which is what Argos specialises in. This is likely to continue to give Sainsbury's an advantage over Tesco for the medium term and this is out trade idea of the week: an arbitrage trade between two of the UK's supermarket giants, Sainsbury's and Tesco. As you can see in the chart below, Sainsbury's has been able to hold its own and it has managed to outperform Amazon in recent months, which is another reason why we have faith that Sainsbury's may continue to outperform Tesco in the coming weeks.
Chart 1: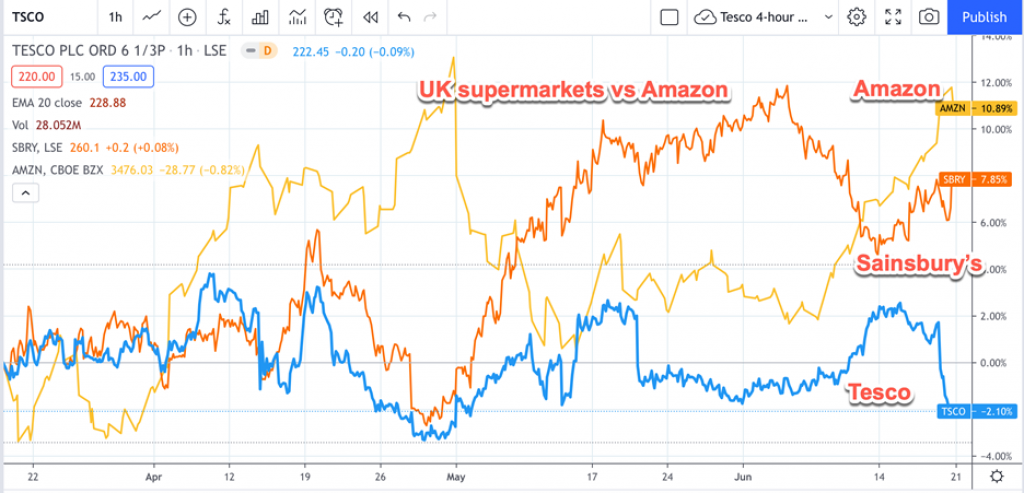 Coke fell flat at the Euros
Reputational risk was also in focus this week, after the Portuguese footballer Cristiano Ronaldo disdainfully pushed aside a bottle of coke during a press conference at the Euro 2021 football competition in favour of "agua". This gesture, made by one of the world's most popular footballers and highlighting the contrasting health effects of cola vs. water, had an immediate negative impact on Coca-Cola's share price, which dived in the aftermath.
As you can see, Coke's share price is looking toppy, and the technical indicators suggest that the recent move to the downside could be the start of a more sustained trend. If top names in sport continue to talk out about the damaging health effects from junk food and fizzy drinks then there could be more reputational risk, and thus stock price downside, for the king of carbonated beverages.
Chart 2: