Stock of the week: why we are sticking with airlines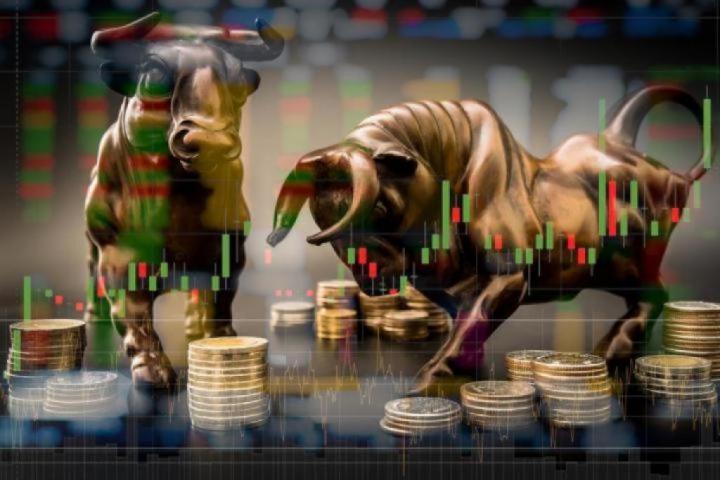 The financial media has lamented the lack of volatility in most developed world stock markets in recent weeks, then the retail army dive in and AMC Entertainment surges 95% in one session. If flailing cinema chains are not your thing, there are pockets of volatility that are worth watching right now. One of those is airlines.
Airline stocks have experienced extreme levels of volatility over the last year, which is unsurprising since the Covid pandemic disrupted most global travel. As fears of a third wave of the coronavirus start to build and different variants of the virus emerge in different locations, volatility in airline stocks, particularly in Europe, are starting to build. We think that this is an opportunity, and this volatility could trigger a wave of interest in airline stocks in the coming weeks.
When share price dives are an opportunity
Last week, IAG, the parent company of British Airways, Iberia and Aer Lingus among others, saw its share price nose-dive by 4% after the British government reviewed its foreign travel list and put Portugal back on the amber list and did not add to the green list of quarantine-free travel. This is a kick in the teeth for airlines, holiday firms and tourists alike who had been looking forward to getting away this summer.
IAG isn't the only airline that suffered at the end of last week – Ryanair was down more than 3% and EasyJet fell by 5%, after it anticipated the move and cancelled thousands of flights in advance of the government announcement. The questions for traders to consider now include: will this disrupt all travel over the key summer months of July and August, and is this volatility too good to miss?
Why summer travel is not off the menu, even after recent government announcements
Looking at the first question, we think that there are some reasons to be optimistic that summer travel is not dead and buried. Firstly, outbreaks linked to the Champions League football final in Portugal at the end of May and the growing threat of the Indian variant in the UK could burn themselves out in the coming weeks.
In the UK more than half of all adults have had two does of the Covid vaccine, Europe's vaccination drive is finally catching up and in France children aged 12 or older can get their vaccine from mid-June. This is good news. Vaccination rates are only going up across Europe, which could mean that in the coming weeks a critical mass of people will be vaccinated.
As we move through the core summer months, then governments may start to look at hospitalisation rates and death rates rather than infection rates and use the former data to make decisions about whether people can travel for leisure.
The case for continued travel this summer
The second point to consider is the UK's traffic light system, which has led to some ambiguity when it comes to travelling to countries that are on the amber list. Can you go if you have a valid reason? For example, a holiday home to look after, elderly family members to visit, a wedding of a cousin for instance? Also, will there be a wave of people trying to find ways to go abroad to amber list countries after being stuck in the UK for so long?
We think that the desire to travel abroad this summer will be strong, especially after scenes during the May half term of packed UK beaches and seaside towns unable to cope with the influx of city dwellers. People may even be willing to go abroad knowing that they have to quarantine when they return as working from home and remote learning have been the norm for large parts of the last 15 months. Thus, unless the airline industry cancels flights, profits could hold up as holiday makers do what they can to get away. Also, the traffic light system is reviewed frequently, so countries could be added back to the green list if infection rates recede.
Some may worry that UK tourists may not be welcome into Europe, however, we disagree, the UK tourist is one of the top spenders in Europe. UK tourists are coveted in large swathes of the Continent, even post Brexit, thus we doubt that UK tourists will be banned from visiting Europe this summer, especially as tourism businesses in Portugal, Spain etc are desperate for visitors. Combined, these factors give us hope that all is not lost for some of the biggest airlines after the volatility that they experienced last week.
Ryanair vs. IAG
We would recommend some discretion when deciding how to get exposure to airlines. Firstly, we prefer European airlines right now, because the US airline industry is operating fairly normally. This means that Delta and American Airlines are priced at higher valuations than their European counterparts.
Likewise, IAG has a P/E ratio of 8 compared with 10 for Ryanair. Ryanair's share price has surged since last year and has recovered all of its 2020 losses, rising from a low of EUR 48 to EUR 116, whereas IAG's recovery has been far slower. For example, IAG had barely recovered 30% of its pandemic losses before it turned south again.
The technical view:
Thus, while growth vs. value investing may have lost some of its lustre in recent weeks, we still think that on a relative value basis we prefer IAG right now over its rivals. IAG mentioned in its Q1 update that pent up demand was strong. We also think that any third wave of the coronavirus will be short lived, and that the end of this pandemic is in sight. Thus, we prefer IAG as a value trade right now.
We believe that buyers will limit further declines as the sharp drop in IAG's share price after the government's announcement that it would move Portugal to the amber list could attract some bargain hunters. Added to this, 186.80 – the low from March, is a key medium-term support level that could attract buying interest if we continue to see further downside.
To conclude, we think that the recent share price decline is a good opportunity to get exposure to IAG, and we believe that the stock price will recover in the short to medium term. On the upside, resistance comes in at 217, the high from 7/4.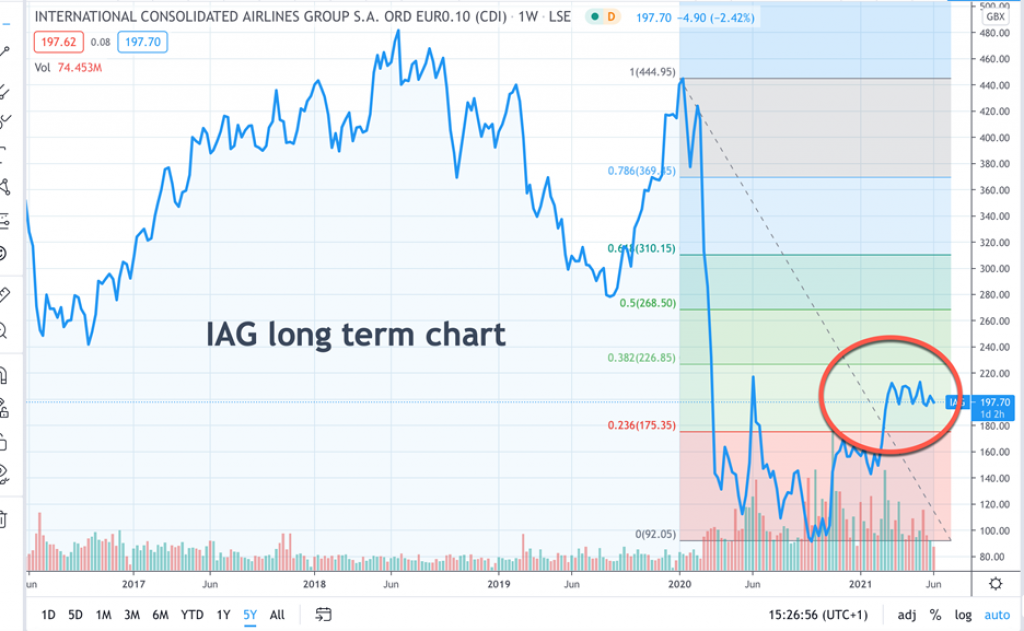 Chart: IAG – a reason to be optimistic