Stocks insider: why the energy sector is still cooking with gas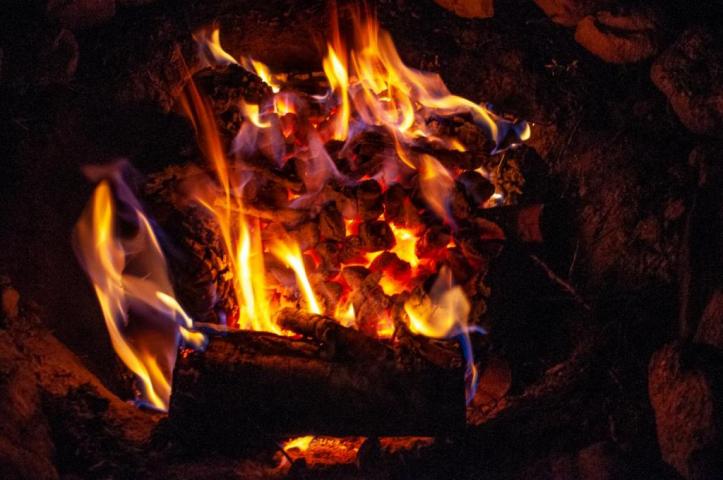 This note will usually focus on one stock, however, after the high levels of volatility that we experienced last week, it makes sense to give you our view on the shorter- and longer-term movements of a few stocks that have caught our eye of late.
The green energy revolution is coming, but it's not here yet
If you were to judge stock performances based purely on newspaper and media headlines, then it would be easy to think that the oil and gas sector is dead in the water as the world turns away from carbon energy and towards green and renewable energy sources. But it's worth noting that people across the world, and particularly in the US and Europe, remain addicted to oil and gasoline.
As global economic expectations have been upgraded this year, energy, one of 2020's least loved sectors, is actually the top performing sector in the broader S&P US index since the start of the year. The good news is that there could be more upside to come. BP closed the week down 3%, while in the US Exxon Mobil was down 5% over last week. That could provide an attractive buying opportunity for value investors as we believe that there are three factors that could drive energy stocks higher in the coming months.
1: Macro economic conditions: the economic recovery is back in full swing and this is likely to drive a sustained demand for energy, which is likely to keep oil prices elevated and boost the energy sector's profitability in the coming quarters. Although the switch to green energy sources and electric vehicles is a long term trend and a major threat to oil producers, we believe that oil will remain an important part of the world's energy mix in the coming years.  Thus, it is premature to ignore the oil majors especially when valuations look attractive and these companies will have a big influence on the future of green energy.
2: Economic fundamentals: Domestic factors are also looking good for the energy sector. Exxon Mobil may have been dropped from the Dow Jones last year, an index it had been part of for 50 years, however, its economic fundamentals are on our radar. Its future EPS projections are looking superb, with stronger earnings growth through to 2024, according to FactSet. Likewise, in the UK, BP's cash flow position is strong, and could strengthen further as the oil price continues its recovery.
With strong cash flows this increases the chances of BP's executive committee agreeing to restore the dividend back to pre-pandemic levels and last month's trading update dropped heavy hints about share buy backs. We believe that share buybacks are more likely to come first, with the potential for BP's dividend to be increased in Q3 or Q4. Since we believe that central banks will remain cautious when it comes to raising interest rates, the prospect of a higher dividend from one of the UK's biggest oil companies could trigger a surge of interest in the stock and keep price momentum on the upside.
3: Technical indicators: BP's recovery has been gaining pace since the stock reached its Covid nadir in early November 2020. The Fibonacci retracement on the long-term chart from the February – November 2020 decline suggests that BP's share price is hovering around an important resistance level around 310p. This is the 38.2% retracement of the Feb – November decline. If the sell-off in BP's share price last week triggers a surge in buying at the start of this week, then we could see the market successfully clear this important resistance level, this could open the way to further gains around 350p in the short to medium term.
Chart 1: BP approaches a key resistance level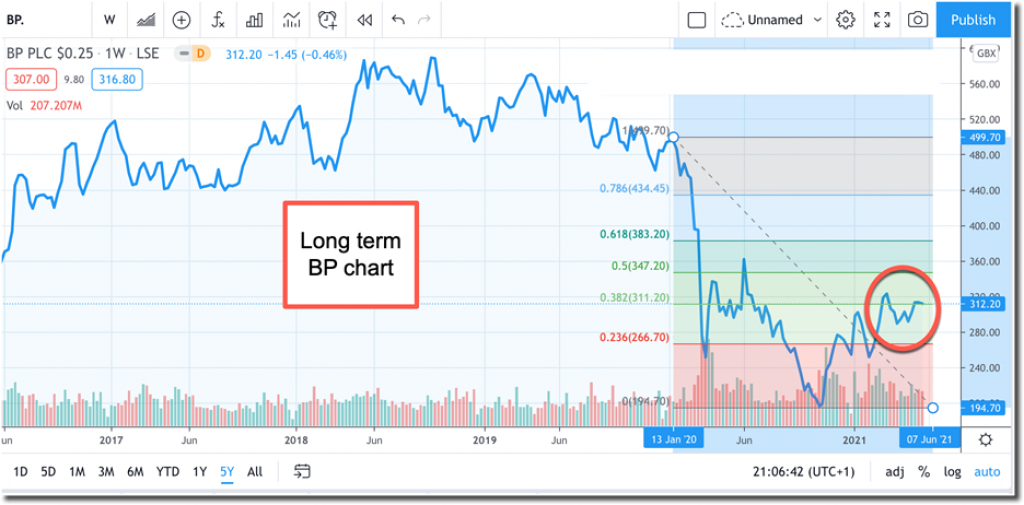 The future for Coinbase Global
At the end of last week, crypto currencies took another tumble as the market digested the prospect of enhanced scrutiny from the world's largest economies, with both Chinese and American authorities announcing plans for greater scrutiny in the crypto space. At the time of writing, Bitcoin was down a further 10%, and closed Friday's session around $35,000.
Coinbase Global, a popular crypto platform, fell a further 3.5% at the end of last week. While we continue to think that Coinbase Global has good potential for the long term, right now its fate is tied up with Bitcoin. However, we would point out that although Bitcoin and Ethereum are the two largest crypto currencies that are traded on Coinbase, there are some interesting new crypto currencies that it also offers.
One example is Cardano, which is the fourth largest crypto currency by market capitalisation. It is considered more environmentally sustainable than Bitcoin because it has a proof of stake system rather than the proof of work system that is used by Bitcoin and makes bitcoin so energy intensive to produce. Cardano is less energy intensive and is thus considered the next generation blockchain that is both sustainable and scalable. We expect Coinbase's marketing team to push the more sustainable crypto currencies available on its platform in the coming weeks and months, and when that message finally gets through then we could see Coinbase Global surge. However, in the short term expect bouts of volatility.
The future is oats
Lastly, we ought to mention Oatly, its stocks surged on Thursday during its IPO, and after a bit of a wobble on Friday the stock price ended the week at $22.46, which was an 11% gain on the day. We expect this new stock to experience some wobbles, however, the food tech sector remains attractive for investors, and we think that momentum, as well as market interest in alternative plant milks, could boost this stock in the coming days and weeks. We will revisit Oatly's share price in future notes.