Stocks rise despite US jobs shocker
Futures for the S&P 500 and Dow are pushing even higher on Monday, even though last Friday's April US nonfarm payrolls data was shockingly lower than expected.
At this rate, we should see 35,000 Dow sooner rather than later, even though the 14-day RSI has already broken into 'overbought' domain.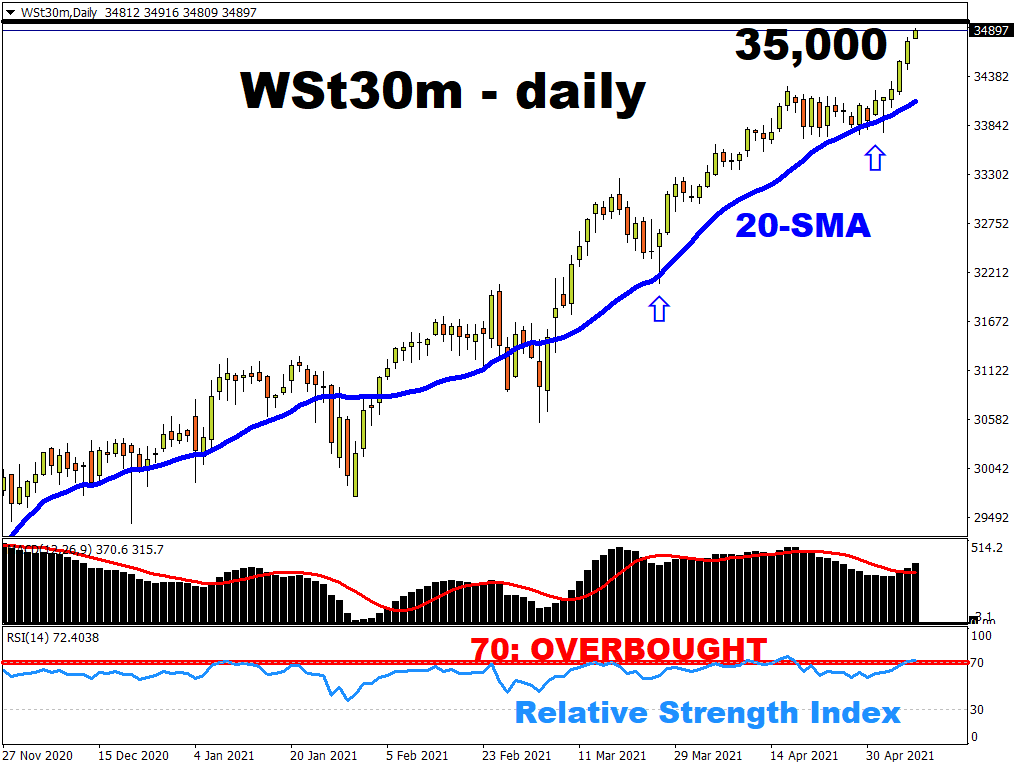 Markets had expected 1,000,000 jobs to have been added last month, in keeping with the positive string of US economic data from recent weeks. Instead, they were left dismayed by the measly 266,000 print.
This marked the biggest negative surprise for the monthly US nonfarm payrolls print since 1996.
If the hiring momentum slows, it may be 2022 before it recovers fully. The US labour market remains about 8.2 million jobs away from pre-pandemic levels (April 2021 vs. February 2020). For comparison, there was a jobs deficit off 8 million during the Great Recession over a decade ago.
In other words, the labour market, while improving, still has tremendous ground to make up before it can claim a complete victory.
What does the disappointing jobs report mean for stocks, dollar?
For risk assets, the big miss in the latest nonfarm payrolls is actually a positive. For the greenback, it's a negative.
The US 10-year breakeven rate, which indicates markets' inflation expectations over the next decade, has breached the 2.50% level for the first time since 2013. Markets are increasingly coming to expect faster inflation due to two reasons:
commodity prices are soaring

the Fed is expected to stick to its ultra-accommodative stance for an extended period of time.
Since the pandemic began, the US central bank has been buying up $120 billion worth of bonds every month to support financial markets. Such measures would have to end eventually, with those purchases set to slow by year-end as opposed to Q3 as some segments of the markets have come to expect.
As long as the Fed stays the course with their asset purchases, that should spell more upside for US stocks.
What to look out for this week?
On Wednesday, look out for the April US consumer price index, which is set to register a 3.6% year-on-year increase. Such a figure that far exceeds the Fed's 2% target is down to the low base effect. 

Instead, what markets should be looking out for would be the month-on-month CPI figures. If there are any signs of prices moving sharply higher, that could stoke investors' fears about a roaring comeback for US inflation, especially if investors disregard the Fed's expectations for "transitory" inflationary pressures.


 
Also, stocks in the mining industry could well climb this week on the back of the surge in commodities.  Iron ore futures have surged by well over 20% so far this month while copper has hit a record high. Should the commodities complex claim more of their upside, that should help pull industry counters along with it.