The FOMC meeting is building up into the final major risk event before we all gorge ourselves on football, the countdown to the next grand UK reopening and probably more football, if it's actually really "coming home"!
Consensus sees no major changes in policy signalling at the FOMC, with positive risk appetite and renewed dollar downside after the meeting, especially for commodity and higher beta FX pairs as investors continue their hunt for carry. Plentiful dollar liquidity would be here to stay in this case, at least through the summer, with falling volatility meaning it's all about yield. There may be some confirmation of considering tapering discussions and a positive risk outlook, but the labour market is expected to constrain this chatter somewhat.
However, a hawkish surprise is being talked up in some circles.
The median 2023 dot moving up to indicate one hike is now pretty much expected, with the potential for more dots moving to 2022 and changes to the policy paragraph mooted, which would really boost yields and the dollar.
Analyst expectations are currently more dovish, so the response seems to be asymmetrical as markets will react in a bigger way in the event of the hawks winning the argument which might mean there is a higher median dot (like more than one hike) or the date of any tapering announcement is brought forward to the third quarter.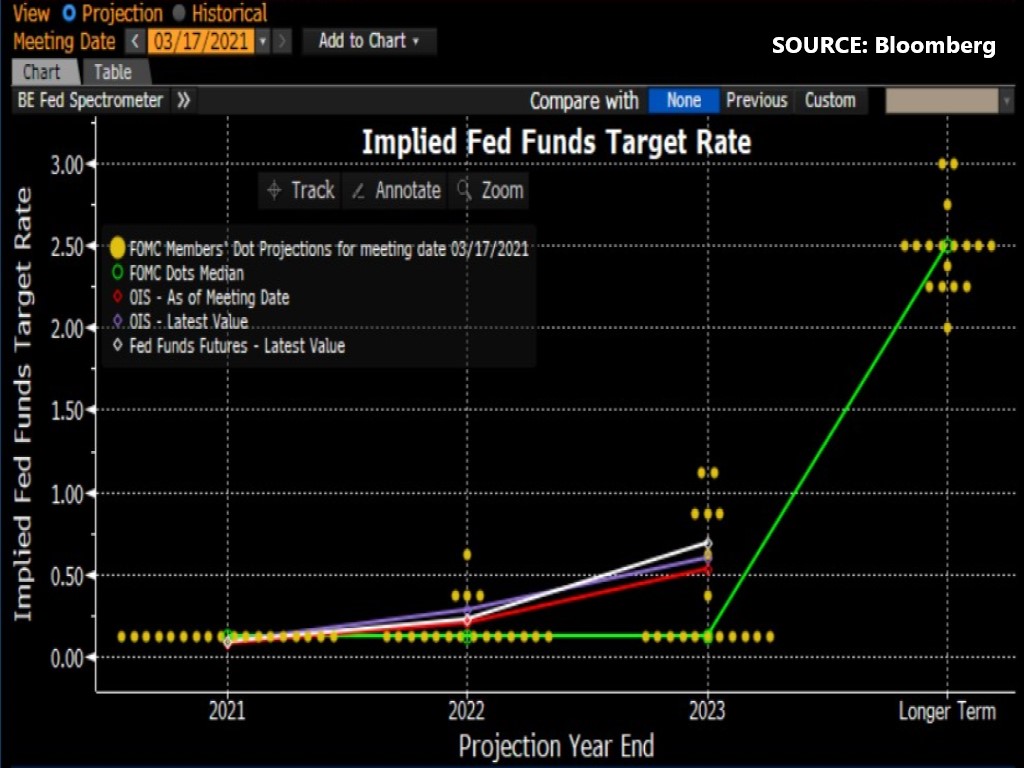 USD/JPY risks move higher
Having flirted with the upward trendline from the April low over the past few trading sessions, USD/JPY has picked up bullish momentum with the RSI strengthening towards 60. The bullish trendline has offered good support on several occasions already so buyers are hopeful for a close above 110 in order to push further north towards early June highs around 110.32 and further out to the year-to-date high at 110.955. Support lies at the upward trendline around 109.30 and then the 50-day SMA at 109.09, with a more dovish outcome from the FOMC challenging these levels. This might entail the lack of the median 2023 dot moving up.
All eyes are on Chair Powell, those "dots" and the press conference.