Week Ahead: Bank earnings to weigh on S&P 500?
Volatility has risen this year, with the VIX Index (a.k.a. Wall Street's "fear" gauge) climbing above its long-term average of 20. And with the US earnings season underway, could stock fundamentals restore some calm to jittery markets?
Here's a list of key economic data releases, events, and US earnings due over the coming week:
Monday, January 17
CNH: China 4Q GDP, December industrial production and retail sales

US markets closed for Martin Luther King Jr. holiday
Tuesday, January 18
JPY: Bank of Japan decision

EUR: Germany ZEW survey expectations

GBP: UK November jobless claims, December unemployment

Goldman Sachs Q4 earnings
Wednesday, January 19
EUR: Germany December inflation

GBP: UK December inflation

GBP: Bank of England Governor Andrew Bailey speech

Bank of America Q4 earnings

Morgan Stanley Q4 earnings
Thursday, January 20
JPY: Japan December external trade

AUD: Australia December unemployment

EUR: European Central Bank publishes Dec meeting account

USD: US weekly initial jobless claims

US crude oil: EIA inventory report

Netflix Q4 earnings
Friday, January 21
JPY: Japan December inflation

GBP: BOE policy maker Catherine Mann speech, UK December retail sales

EUR: Eurozone January consumer confidence
In a holiday-shortened week (US markets closed for MLK day on Monday, 17th Jan), Goldman Sachs, Bank of America, and Morgan Stanley are all due to report their respective Q4 results.
Note that financial stocks account for over 11% of the S&P 500, hence their earnings could hold major sway over the broader index.
At the time of writing, the biggest US bank, JPMorgan, has just reported a drop in trading revenue and customer loans in Q4.  Perhaps more concerning for investors is the expectations for costs to rise in 2022 due to rising wages and long-term investments to future-proof the business. JPMorgan's stocks fell in Friday's pre-market session.
Citigroup's shares are also lower having reported a drop in trading revenue, although Wells Fargo is climbing after posting better-than-expected revenue for the quarter.
Overall, the rather disappointing commentary out of Wall Street on Friday has prompted S&P 500 futures to erase earlier gains and turn lower.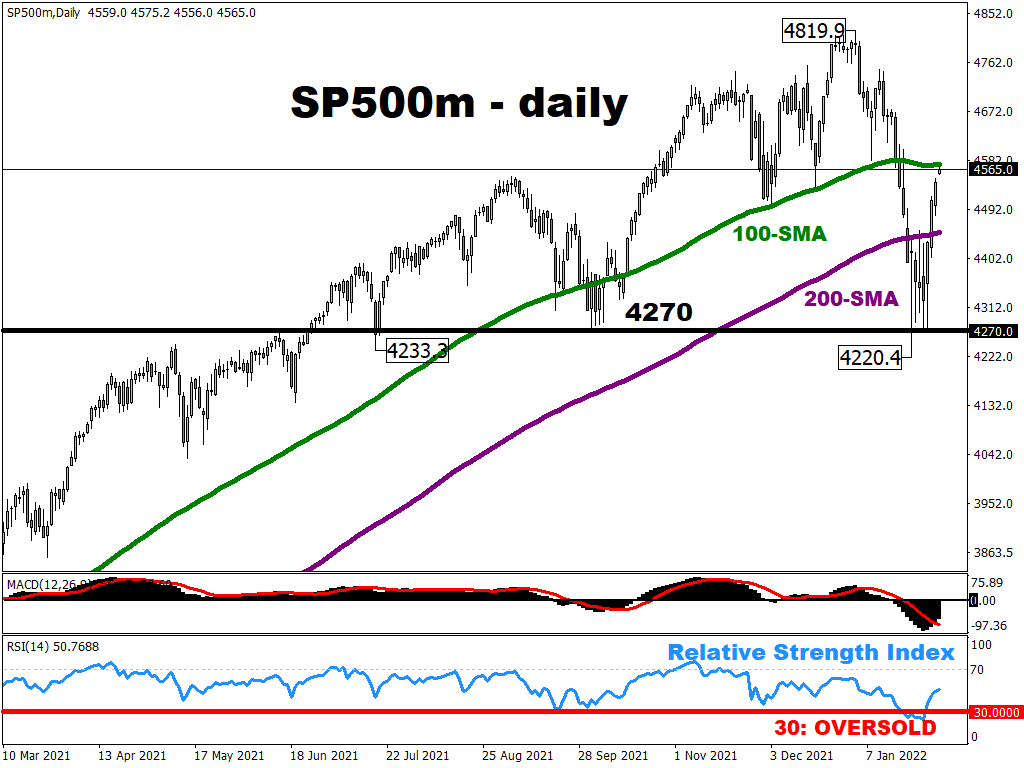 JPMorgan now sets the tone for the other banking titans that are due to release their results in the coming week.
Further signs of rising expenses that compresses profitability could translate into downward pressure for not just banking stocks, but potentially into the broader benchmark indices as well. C-suite commentary will also be closely scrutinized as to how well these banks can weather the Fed's attempts to rein in US inflation.
Looking at the earnings season overall, there's more negative EPS guidance being offered by S&P 500 companies than positive ones, according to FactSet. Also, the financial sector is the only sector that's projected to have a year-on-year drop in earnings for 2022.
Still, over the course of this calendar year, S&P 500 companies' revenue and earnings growth are estimated to be in the high single-digits, despite the higher base of comparison from 2021, while a record high net profit margin is expected by the end of 2022.
This suggests that there's more upside for stocks on the blue-chip stock index based on earnings alone.
Of course, there are many other major considerations to be taken into account such as Fed rate hikes and possibly even the shrinking of its balance sheet, to inflation's fallout on the broader economy, and even the latest developments surrounding the pandemic.
But for near-term considerations, bank earnings over the coming week could keep the S&P 500 supressed before the index can climb back onto higher ground.