Week Ahead: EURUSD to be dragged towards 1.08?
Even as the fog of war continues engulfing global financial markets in the coming week, investors and traders will have to keep their other eye on the incoming ECB commentary on its policy outlook, as well as the February US CPI print as it portends to the Fed's policy normalization path.
Here are the scheduled major events and data releases due in the days ahead:
Monday, March 7
CNH: China January & February external trade

EUR: Germany January factory orders
Tuesday, March 8
EUR: Eurozone 4Q GDP (final)

EUR: Germany January industrial production

Apple's first product unveiling of 2022
Wednesday, March 9
JPY: Japan 4Q GDP (final)

CNH: China February CPI and PPI

US crude: EIA weekly US crude inventories
Thursday, March 10
EUR: ECB rate decision

USD: US February CPI

and weekly jobless claims
Friday, March 11
GBP: UK January monthly GDP, industrial production, and March inflation attitudes

CAD: Canada February unemployment

USD: US March consumer sentiment
Euro traders, get ready for a (potentially) tumultuous Thursday.
With the Russia-Ukraine war still raging on, the European Central Bank is widely expected to keep its benchmark rate at the record low of minus 0.5%. The ECB may not dare to make any major policy adjustments amid Europe's worst security crisis since World War 2, with the latest headlines sparking new waves of risk aversion.
After all, the downside risks to the Eurozone economy are set to become more pronounced the longer the Russia-Ukraine war drags on.
A protracted war would only raise the specter of sanctions targeting Russian energy exports, which in turn should see commodity prices surge even higher and potentially tip the Eurozone economy into a stagflationary environment.
While next week's meeting may be too early for the ECB to signal a pullback on the intended unwinding of its support measures, the commentary by ECB President Christine Lagarde may yield clues on whether policymakers have to hit the brakes on its plans to tighten.
Fed set to commence policy tightening cycle as inflation ramps up
Also on March 10th, the US inflation data release is set to hit a new 40-year high, making a Fed rate hike later this month a near-certainty (central banks use higher interest rates as their main tool to combat inflation). The February CPI is forecasted to register a 7.9% year-on-year advance.
With a March rate hike all but certain, the question now is about how many times the Fed can raise interest rates this year, as opposed to when it can actually start (as appears to be the case for the ECB).
ECB-Fed policy divergence to heap downward pressure on EURUSD
Hence, this widening gap between when the Fed and the ECB can raise their respective interest rates is set to drag EURUSD closer toward 1.08.
At the time of writing, the world's most-popular currency pair is already trading at its lowest since May 2020, having broken below the psychologically-important 1.10 mark.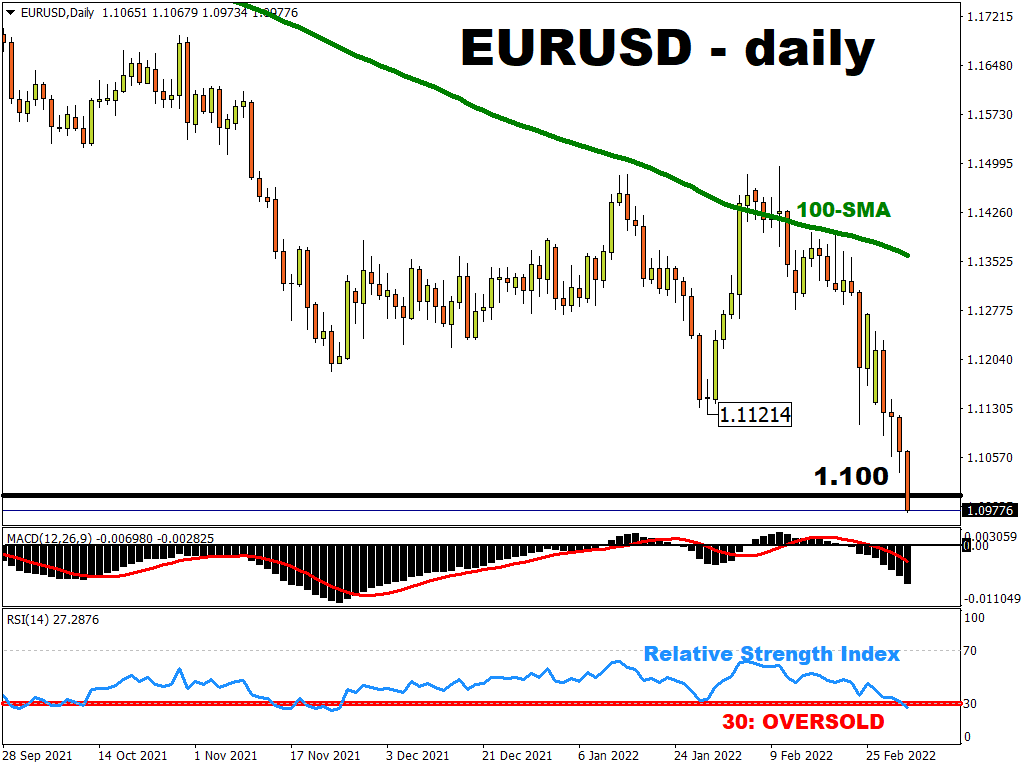 EURUSD has broken into oversold conditions, with its 14-day relative strength index diving into sub-30 territory. Still, any technical pullback should prove fleeting, as long as the Ukraine crisis continues to rage on.
On the weekly chart, a solid close below 1.10, which is also a crucial Fibonacci retracement line in EURUSD's March 2020 - January 2021 runup, could ultimately invite bears to revisit the 1.06355 mark.
But first, euro bears must conquer the 1.08 region which had supported EURUSD for several weeks in the first half of 2020.