Week Ahead: Fed meeting, Big Tech earnings
A massive week for global financial markets lies ahead. The Federal Reserve is set to offer its latest signals on its tapering plans while tech titans unveil their respective Q2 earnings:
Monday, July 26
Japan Jibun Bank PMIs

Germany IFO business climate and expectations

Tesla earnings
Tuesday, July 27
IMF World Economic Outlook update

China industrial profits

US consumer confidence

Microsoft, Apple, Alphabet earnings
Wednesday, July 28
Fed rate decision

Facebook earnings
Thursday, July 29
Eurozone economic/consumer confidence

Germany unemployment, CPI

US Q2 GDP (advanced), initial jobless claims

Amazon earnings
Friday, July 30
Japan industrial production, retail sales, unemployment

Eurozone unemployment, CPI, GDP

US personal income/spending, consumer sentiment, core PCE inflation
Hawkish Fed to give buck another leg up?
Earlier this month, I considered the possibility of the equally-weighted US Dollar index registering a new year-to-date high. Since then, the index has broken meaningfully above its 200-day simple moving average to indeed post a new high for 2021.
However, despite breaching the psychologically-important 1.10 line for the first time since November, the gains on 20 July proved fleeting.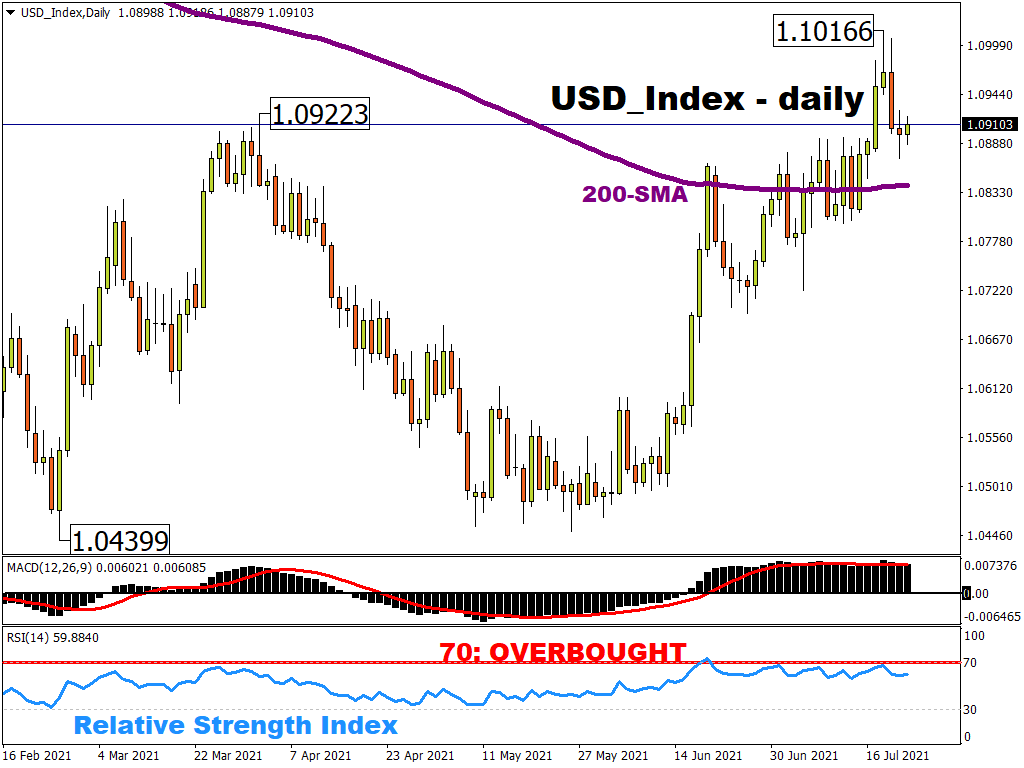 Fed Chair Jerome Powell's press conference mid-week will be scrutinized for details about when and at what pace the Fed intends to taper its bond purchases in light of surging consumer prices.
Although such a seismic announcement could be a likelier event at Jackson Hole in late-August, markets are still eager for any cue or hint about the Fed's policy bias. This makes for market conditions that are raring to react to Powell's cues.
Should the Fed indeed reveal that the tapering talk is gathering steam, that could send this US dollar index to a fresh year-to-date high while carving out a sustained presence above the 1.10 mark.
And with major US data also due after Powell's post-meeting comments, from Q2 GDP to the latest readings on the Fed's preferred inflation gauge, market participants may be looking to use such hard economic prints to test the Fed's thesis that US inflationary pressures are truly "transitory".
Nasdaq 100 to set new record high?
Just as the sporting elite come to the fore at the Olympic Games in Tokyo (the opening ceremony is underway as I'm writing this), so too will the tech juggernauts hog the limelight in the coming week. The 5 biggest listed US companies and Tesla are set to report their respective Q2 earnings in the coming days.
Note that these 6 tech titans, namely Apple, Microsoft, Amazon, Alphabet, Facebook, and Tesla, boast a combined market cap of over US$ 9.8 trillion (as of market close on Thursday, 22 July). That's more than half of the Nasdaq 100's US$ 17.2 trillion in market capitalization!
In short, the pre- and post-earnings performances of these 6 stocks are set to have an outsized influence on the broader benchmark index.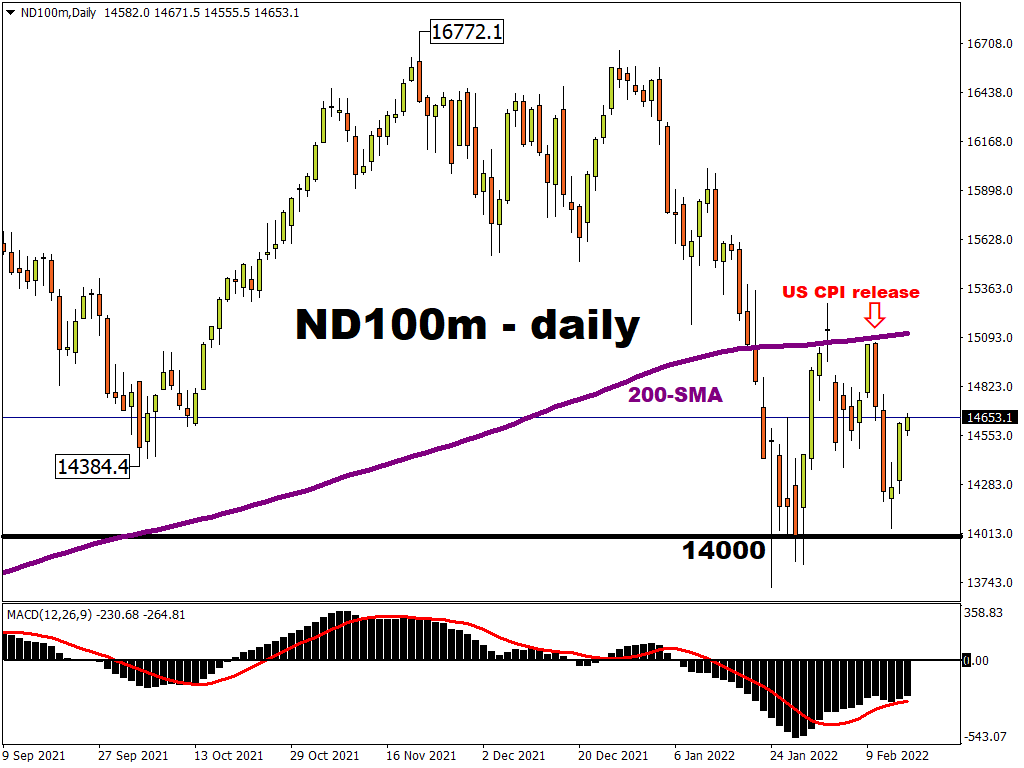 Although the futures contracts on the Nasdaq 100 have already breached 15,000 on a couple of occasions already this month, it has yet to close above that psychologically-important mark (perhaps today?). Whether it can stay above that line could be largely dependent on the market's reaction to the tech titans' earnings in the week ahead.