Week Ahead: Fed to preach patience ... again
For much of 2021 that has passed, markets have had one primary obsession: when will the Fed begin tapering its asset-purchases programme?
That would remain the main question on the market's collective mind ahead of the mid-week FOMC meeting, sandwiched by other potentially market-moving events in the week ahead:
Monday, June 14
Eurozone, Japan industrial production

PM Johnson announcement: UK to end lockdown on June 21?
Tuesday, June 15
BOE Governor Andrew Bailey speech

UK unemployment rate

Eurozone trade

US industrial production, PPI, retail sales
Wednesday, June 16
China industrial production, retail sales

UK inflation, PPI

FOMC decision
Thursday, June 17
Eurozone CPI

US initial jobless claims
Friday, June 18
BOJ decision

Germany PPI

UK retail sales
To be fair, markets have been getting more comfortable with the Fed's narrative that policymakers have a preference for a more equitable and broad-based jobs recovery rather that inflation overshoots before easing up on their bond purchases, which would eventually pave the way for a US interest rate hike. Fed officials have also been insisting that they have enough policy levers to pull on should consumer prices become intolerably high.
With such a narrative in mind, the US dollar index has been subdued and sideways since early May, even after taking into account some recent surprises in the US economic data releases, including:
two consecutive disappointments in the monthly nonfarm payrolls

the highest year-on-year growth for the headline consumer price index in 13 years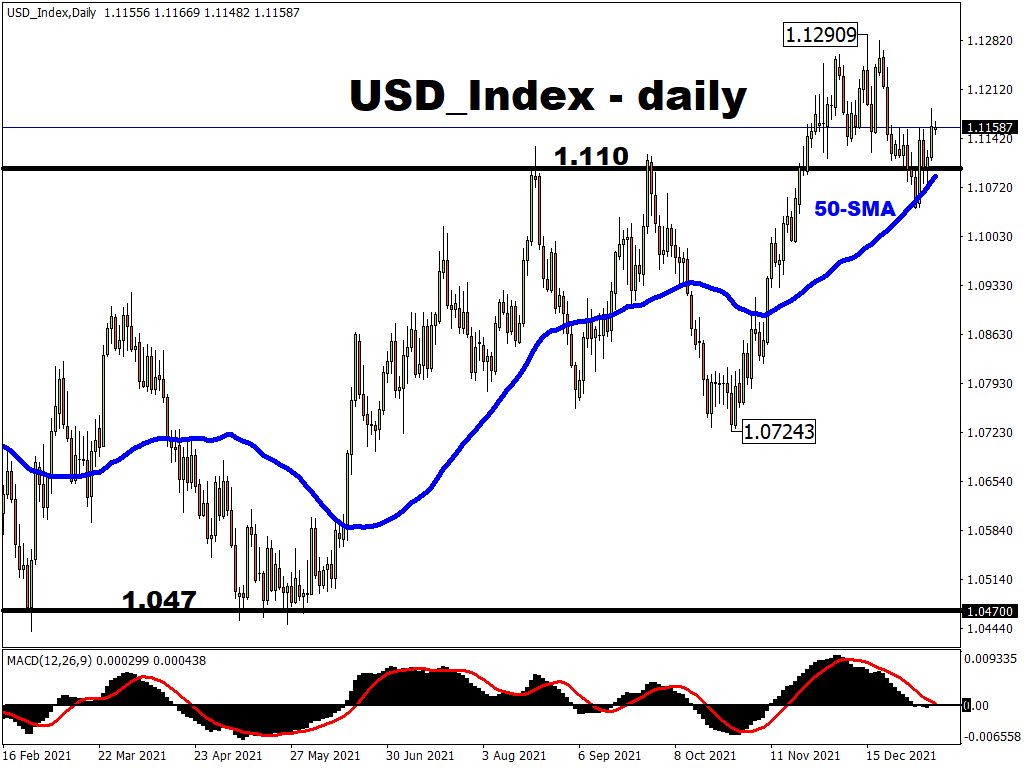 Note that this is an equally-weighted index, comprising the following currency pairs:
NZDUSD

USDCAD

GBPUSD

USDCHF

AUDUSD

EURUSD
Although the Fed is not likely to rock the boat this week, persisting with its message of patience, markets are still eager for any hints about the Fed's eventual tapering. Even the slightest clues of either hawkish or dovish policy biases out of the Fed, which may be garnered from the Fed dot plot or from the language that the FOMC or Fed Chair Jerome Powell employs on Wednesday, could be enough to move global financial markets.
Should markets buy more into the Fed's insistence that the idea of tapering remains far from the FOMC's collective mind, that could push the US dollar index closer towards its year-to-date low, prompting the index to stick to the lower bounds of its Bollinger band. Conversely, a surprise hawkish cue that the Fed is gearing up for tapering could send US Treasury yields higher, boosting the greenback along with it.
And of course, a breakout in the dollar is sure to have an impact on gold prices.
Bullion hasn't strayed far from the psychologically-important $1900 level in recent weeks, while having cleared a lot of the froth in prices, evidenced by its 14-day relative strength index pulling away from the 70 level which typically denotes overbought conditions.
That sets up the precious metal nicely to take advantage of another bout of dollar weakness, should it materialize, with bulls eyeing $1960 as the next region of interest.
Still, spot gold is finding plenty of support at present, considering that real yields are firmly in negative territory, coupled with Treasury yields and dollar that are subdued by a dovish Fed. That is, at least  until expectations surrounding the Fed's tapering plans sees a material change.