Week Ahead: "Interesting" ECB announcement awaits
Before we look at the coming week, let's first unpack the just-released US retail sales figures. It surged by 0.6% in June compared to the previous month, which defies the market-expected print of minus 0.3%.
This positive surprise seemingly adds to the narrative that the Fed would have to taper its asset purchases sooner rather than later.
The idea is that heightened retail spending could prompt businesses into pushing prices even higher, leading to faster inflation. Such inflationary pressures may then prompt the Fed into tapering sooner than anticipated, thus unwinding a key pillar of support for stock market gains.
Yet for the time being, US stock futures are ignoring such a narrative, showing intent instead to go into the weekend on a positive note. Equities are cheering the solid US recovery, with Fed Chair Jerome Powell having reiterated the central bank's supportive stance for the economy yet again this week.
The futures contracts on the S&P 500 are pointing to gains at the cash session open, potentially erasing the blue-chip index's losses for the week.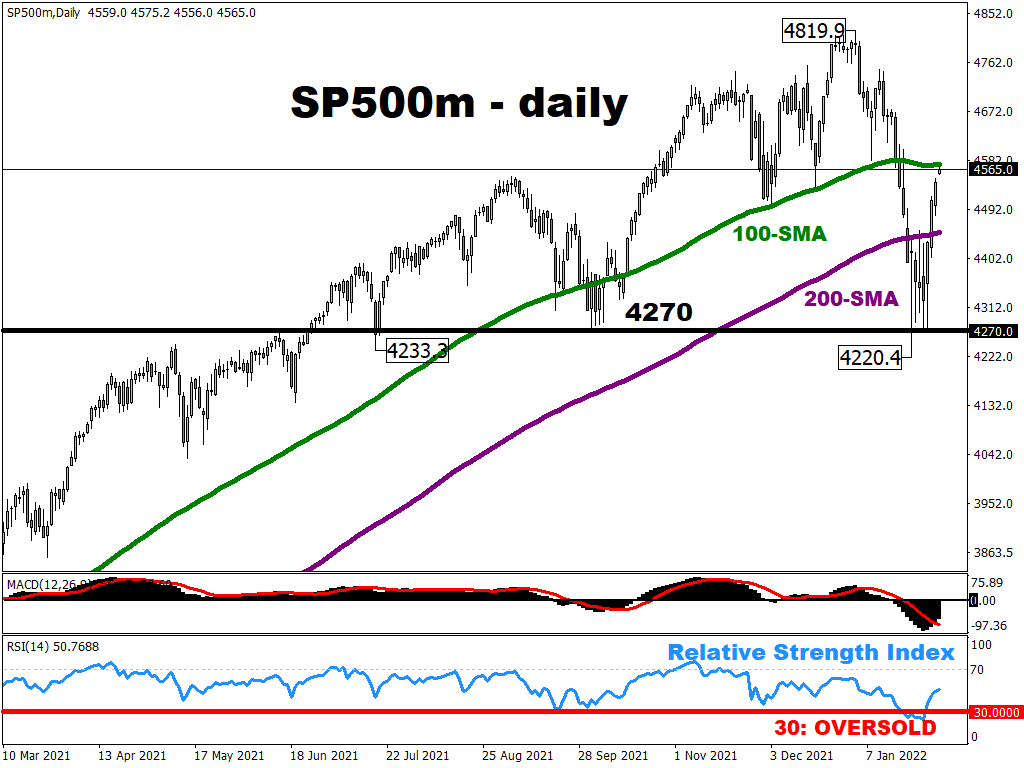 Still, the debate over how soon the Fed might start reining in its support measures is likely to continue dominating investors' chatter in the week ahead, amid these other potential market-moving events:
Monday, July 19
Tuesday, July 20
Eurozone current account balance

RBA minutes

Germany PPI

Netflix earnings
Wednesday, July 21
EIA crude oil inventory report

Japan external trade
Thursday, July 22
ECB rate decision

Eurozone consumer confidence

US initial jobless claims, existing home sales

Twitter, Snap Q2 earnings
Friday, July 23
PMIs for Eurozone, UK, US

UK consumer confidence, retail sales
EURUSD could react to ECB forward guidance modifications
The European Central Bank meeting on 22 July was initially expected to be a ho-hum affair, with policymakers set to leave untouched their policy settings and benchmark interest rate.
However, on Monday 12 July, ECB President Christine Lagarde told investors to get ready to adapt to some new language pertaining to its future policy moves. According to Lagarde, this "important" meeting is set to feature "some interesting variations and changes".
It remains to be seen what those changes would actually entail, and whether market participants are actually convinced that the ECB has the tools necessary to achieve its inflation targets. Overall, markets are expecting the ECB to maintain its accommodative stance. If so, it would come at a time when other major central banks such as the RBNZ and the Bank of Canada are beginning to sing a hawkish tune.
Such a divergence could prompt more weakness in the euro.
Already, the shared currency has shed about 0.6 percent so far this week. More dovish cues next week out of the ECB could set EURUSD well on a path towards forming a death cross, pushing the world's most popular currency pair closer towards the existing year-to-date low around the 1.170 psychological mark.
Twitter, Snap Q2 results to spur Social Media index onto new record high?
As the US earnings season rolls along, the likes of Twitter and Snap are set to unveil their respective Q2 earnings after markets close on Thursday, 22 July. Notably, these two stocks make up 50% of the equally-weight Social Media index, which comprises:
Facebook

Google

Twitter

Snapchat
Markets are already forecasting better-than-expected Q2 results for Twitter and Snap, with active user growth set to post double-digit gains. These platforms are boosted by the low base comparisons from Q2 2020, as well as heightened digital advertising thanks to the reopening economy.
Markets are already pricing in a 1-day move of over 10% each for Twitter and Snap respectively when these stocks resume trading post-earnings on Friday, 23 July.
Barring a major 'sell the fact' event, these two stocks could help push the Social Media index to fresh peaks, adding to the index's year-to-date gains which currently stand at 42%. That far exceeds the gains registered so far in 2021 by the S&P 500 (16.08%), Dow (14.31%), and the Nasdaq Composite index (12.84%).