Week Ahead: Jackson Hole to underwhelm?
The Fed's tapering plans are coming into sharper focus in the coming week, with the keenly-awaited Jackson Hole Symposium and the Fed's preferred inflation gauge due alongside these other potential market-moving events:
Monday, August 23
EUR: Eurozone August manufacturing, services and composite PMIs

GBP: UK August manufacturing, services and composite PMIs

USD: US August manufacturing, services and composite PMIs
Tuesday, August 24
EUR: Germany 2Q GDP (final)

USD: US July new home sales
Wednesday, August 25
EUR: Germany August IFO business climate

EIA crude oil inventory report
Thursday, August 26
USD: US weekly jobless claims and 2Q GDP (second estimate)
Friday, August 27
USD: Jackson Hole Symposium continues

USD: US July personal income and spending

USD: US July PCE price index

USD: US August consumer sentiment (final)

USD: Fed Chair Jerome Powell to deliver Jackson Hole speech virtually
Seasoned market watchers will be aware that the Jackson Hole Symposium harbours enough potential to rock multiple asset classes, with the world's top central bankers and economists engaged in open discussion at the Fed's flagship event. However, for the second year running, this event will be held virtually due to heightened concerns over the resurgence of Covid-19.
Still, volatility instruments that cover the next one-week span show that markets are expecting little excitement out of Jackson Hole. Fed officials have been conveying their respective policy biases over recent months that markets have had plenty of time to bake in their expectations for the Fed's tapering timeline.
Still, that doesn't mean that there will be zero surprises.
With policymakers' discussions to be scrutinized, a single unexpected word out of any of these influential figures could jolt global markets.
Fed Chair Jerome Powell is due to deliver his remarks virtually on Friday. Traders and investors worldwide will be wondering if, in his view, the US economy has made enough "substantial further progress" that the FOMC wants to see before giving the green light to ease up on its asset purchases.
Should this notable dove lean closer towards his hawkish colleagues, that could spur US Treasury yields and the US dollar higher while potentially amplifying the declines in US equities and prompting gold to unwind recent gains.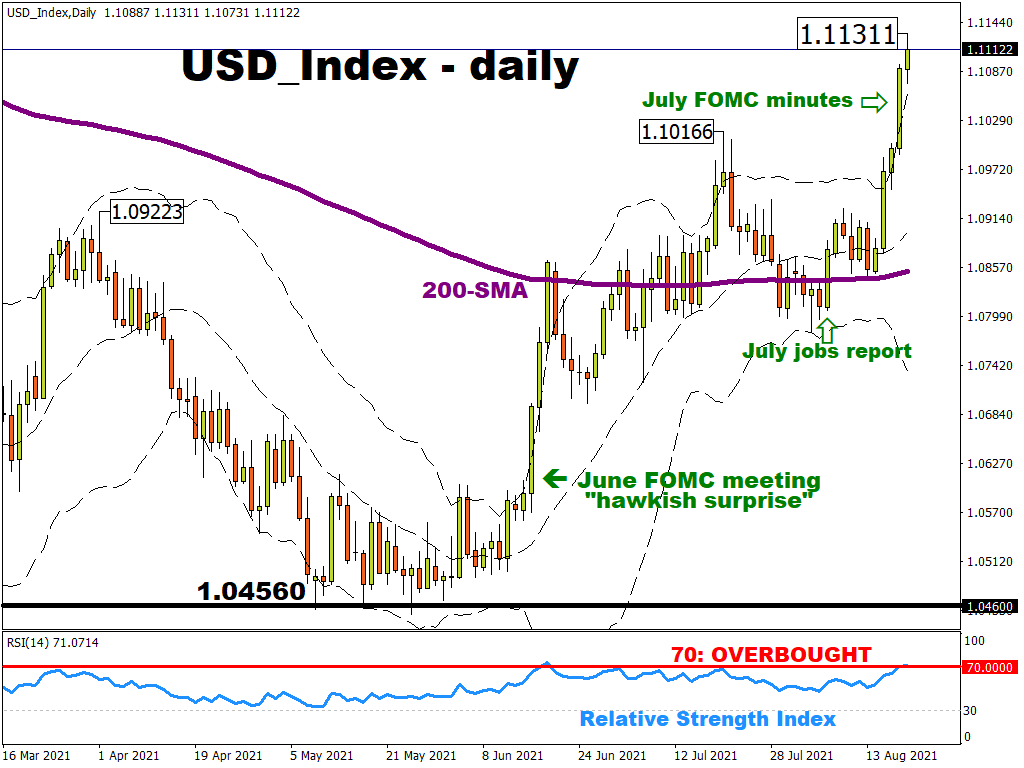 From a technical perspective, this equally-weighted US Dollar index is overbought, having breached its upper Bollinger band while its 14-day relative strength index has also broken above the 70 line which often denotes 'overbought' conditions.
Although this USD index could indeed see a near-term technical pullback before Jackson Hole kicks off, its downside appears limited considering that markets have come to expect that the Fed's tapering might happen sooner rather than later.
US economic data may offer more tapering clues than Jackson Hole
And while the luminaries of the central banking world exchange views on "Macroeconomic Policy in an Uneven Economy", as the theme for this year's symposium goes, global investors will also be keeping another eye on the US data due amid the event. There's the US weekly jobless claims, personal income and spending levels, and of course the PCE price index which is the Fed's preferred inflation gauge.
Better-than-expected data out of the world's largest economy should pave the way for the Fed's tapering, with any shifts in expectations potentially translating into sizeable moves across asset classes.