Week Ahead: Jobs report could dictate USD's next move
The Fed's policy outlook remains a central theme across financial markets, though in the week ahead, it'll be filtered through the lens of Friday's US nonfarm payrolls print.
Here' are some of the major economic data and earnings releases due in the first trading week of August:
Monday, August 2
Manufacturing PMIs for China, Eurozone, UK, US

US ISM manufacturing
Tuesday, August 3
RBA policy decision

Eurozone PPI

Alibaba earnings
Wednesday, August 4
Eurozone retail sales

Composite/services PMIs for China, Eurozone, UK, US

EIA crude oil inventory report
Thursday, August 5
BOE rate decision

Germany factory orders

US initial jobless claims
Friday, August 6
Germany industrial production

US nonfarm payrolls
On the first Friday of every month, the US nonfarm payrolls release is a keenly watched event with the potential to rock global financial markets. More so now because of how much the Fed emphasizes a broad and robust recovery in the jobs market as a necessary precursor to its eventual tapering.
For the July's nonfarm payrolls report that's due on Friday, 6 August, markets are forecasting a print of 925,000. The whisper number is slightly lower closer to the 900k mark.
Anything higher than 850k would mark a third consecutive month of faster jobs growth, and also the highest NFP print since August 2020, back when the jobs market performed a stunning V-shaped recovery.
Will the next NFP satiate the Fed?
At the Fed's July FOMC meeting that wrapped up earlier this week, we were again reminded of the "substantial further progress" that the Fed demands before it'll commence the tapering process. Even back in April, Fed Chair Jerome Powell had remarked that he wanted to see a "string" of robust monthly job gains, while also have spoken of his desire for a more broad-based jobs recovery that involves more segments of the US population. Using June's figures as a reference, payrolls are still about 6.76 million lower than pre-pandemic levels.
It remains to be seen whether the data released on August 6 would be in keeping with Powell's definition of a "string", or whether it is "substantial" enough for the Fed.
Otherwise, the doves may continue ruling the roost at the FOMC.
Can the buck hang on to gains since June's hawkish surprise?
From a dollar bull's perspective, they'd likely want to see the official NFP far surpass market expectations, which would in turn ramp up the pressure on the Fed to ditch its dovish stance. That could keep this equally-weighted US dollar index above its 200-day simple moving average while charting a course back towards recent highs.
Otherwise, another lackluster print for the US jobs market could unwind more of the dollar's gains since that June hawkish surprise out of the Fed, and test the index's lower Bollinger band as a support level which currently resides around the 1.076 region.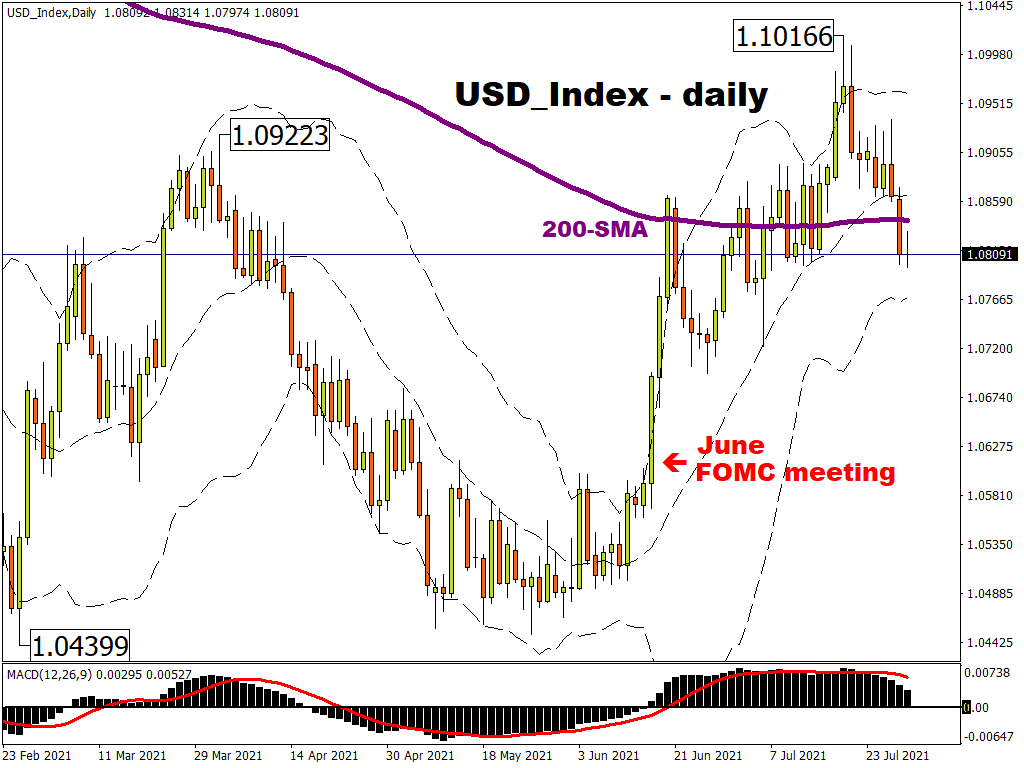 Note that, as opposed to the DXY, this USD_Index is an equally-weighted index comprising:
EURUSD

GBPUSD

AUDUSD

NZDUSD

USDCAD

USDCHF