What are CFDs and what does CFD trading mean?
CFDs allow you to trade on the rising or falling prices of financial markets across the globe. This highly popular type of derivative trading means you can profit without owning the underlying asset in thousands of different markets such as currencies, shares, indices and commodities.
What is a CFD?
A CFD, or 'contract for difference', is a simple financial derivative based on an underlying market. It offers traders an opportunity to speculate on the future movements in a market's price.
You can trade on both rising and falling markets across a vast range of financial markets
You can potentially make profits without actually owning the underlying asset
You buy or sell contracts which represent an amount per point in that market
What is CFD Trading?
When you trade a CFD or 'contract for difference', you enter into an agreement with an online CFD provider. In effect, you agree to exchange the difference between the opening and closing price of the financial market you are trading, which could be in Apple shares, oil, gold or any of the thousands of markets now available to you.
What CFD Trading Means?
Trading CFDs means you will buy or sell a certain number of units in a particular financial instrument. If you think the market will go up, you will purchase the CFD or go 'long', while traders who expect a fall in prices will sell an opening position or go 'short'. You do not need to physically own the underlying asset as you are speculating on the price movement in points.
To close the position, you must buy or sell the offsetting trade and the difference of the opening and closing price is your profit or loss seen immediately in your trading account in cash.
How does CFD trading work?
There are a number of key features of CFDs and CFD trading to understand, including leverage, going long or short and spreads.
Leverage in CFD Trading
CFD trading allows you to open positions and trade with a high degree of leverage. This means you can gain exposure to financial markets without having to put down the full cost of the position at the outset.
In effect, trading using leverage gives you the ability to enter into positions larger than your account balance. Or put it another way, your 'trading' power and 'earning' power are increased. So, a small change in price moving in your favour gives you the chance of ending up with vastly bigger profits.
In a normal share trade, say you wanted to buy 100 Apple shares – you would have to pay the full cost of the shares upfront.

But with a leveraged product like a CFD, you might only have to find 20% of that cost, as your broker will fund the balance.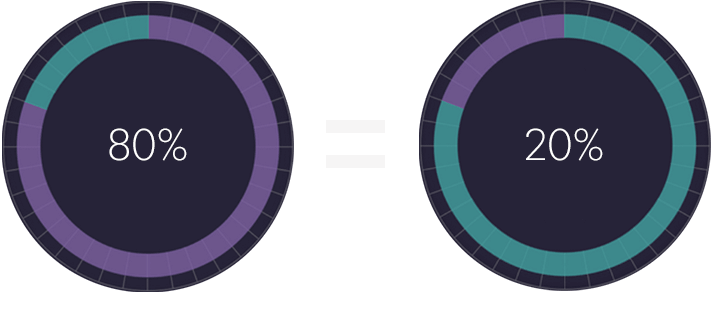 Margin in CFD Trading
When you open an account with an online provider, you must deposit a minimum amount of capital in order to maintain positions and cover any losses. This capital is a deposit and is known as 'margin'.
It is important to remember that trading CFDs on leverage allows you to trade positions larger than the amount of capital in your trading account, beyond your initial deposit. Trading on margin implies that both profits and losses can be magnified compared to your initial outlay, with losses exceeding your deposit. This is because they are based on the full value of the position.
Let's take a look at those Apple shares you were thinking of buying.
You buy 100 shares at $100, so your notional investment is worth $10,000.

You deposit 10% of cash into your margin account, so your equity is $1,000 (10% x $10,000). Your broker funds 90% of the position for you.

The Apple share price rises to $105, so you sell your 10 shares.

Your position is now worth $10,500 (10 x $105), so you have made a profit of $500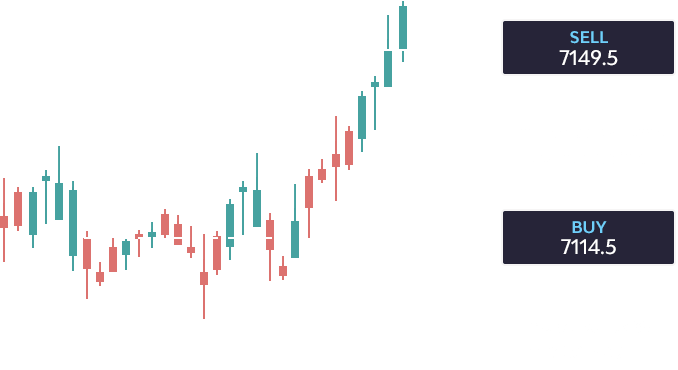 Apple shares have risen 5% ($100 up to $105), but your trading account has risen 50% ($1,000 up to $1,500). You only put up 10% of the trade, but your profits are 10x the rise in the share price.

If the Apple share price had fallen 5%, the balance in your margin account would now be $500, which is your original deposit minus the loss.
Please note that these examples do not include any financing charges or commissions which your online provider may charge when trading on margin.
Going Long or Short in CFD Trading
There are a number of key features of CFDs and CFD trading to understand, including leverage, going long or short and spreads.
Let's say you think the price of Gold is going to fall.

Gold is currently trading at $1950 and so you open a sell ('short') position in 10 Gold CFDs at $1950.

CFD trading enables you to sell Gold with the aim of profiting from the predicted price move lower. If you are right, you can buy gold back at a lower price to make a profit.

Gold falls by $20 to $1930 and you decide to close your trade.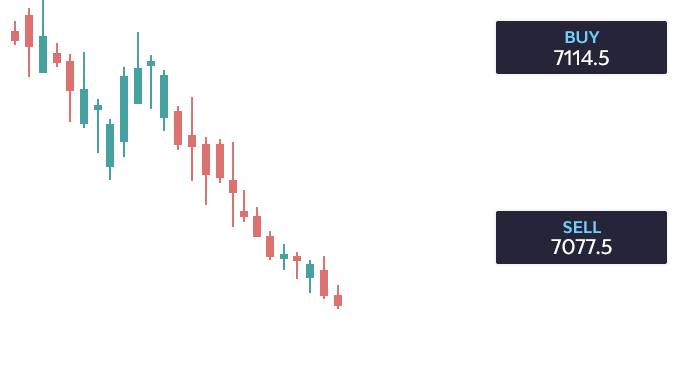 You make ($1950 - $1930) x 10 = $200 profit.
Remember, you are not buying or selling gold, the physical commodity. You are simply exchanging the difference in points between your opening and closing price.
So, for each point the price of your position moves in your favour, you make profit by the multiples of the number of CFD units you have bought or sold. On the flip side, you will make a loss for every point the price moves against you and this loss can exceed your deposits.
Key Characteristics of Trading CFDs
When you trade a CFD or 'contract for difference', you enter into an agreement with an online CFD provider. In effect, you agree to exchange the difference between the opening and closing price of the financial market you are trading, which could be in Apple shares, oil, gold or any of the thousands of markets now available to you.
| Features | CFD trading |
| --- | --- |
| Who can use CFDs? | Beginners and more experienced traders |
| Markets available | Forex, commodities, indices, shares, cryptocurrencies |
| Spread Costs | You pay the difference between the buy and sell price |
| Commission Charges | Separate commission when you trade share CFDs |
| Other charges | Holding costs may apply on open positions held overnight, and for guaranteed stops (if triggered) |
| Deal Sizes | Standardised contracts, known as 'lots' |
| Expiry Times | No expiry, can be held as long as you choose |
| Calculating Profit & Loss | The difference between your entry and exit price, multiplied by the number of CFDs |
Hedging using CFDs
We have already seen how CFD trading allows you to sell an instrument if you think the market will fall, as you aim to profit from prices moving lower. If you are right, you simply buy back what you have sold at the lower price and bank your profits.
This can be especially helpful when you already own a portfolio of physical shares and you believe their value might fall over the short term.
CFD trading lets you hedge those physical shares by short selling the ones you believe may drop in value. The profit you can make from those trades may act as an 'insurance' and help to offset the losses from the physical shares in your portfolio.
For example, you think your shares in Tesla may take a short-term hit in value due to some negative publicity. You can hedge this exposure by short selling the equivalent value of Tesla with CFDs.
If you are right and the share price of Tesla goes down, even though your physical shares have lost value, you could then close out your short CFD position to bank a profit and make up for that loss. If you can time the closing of your CFD trade with when the share price starts to rise again, so much the better!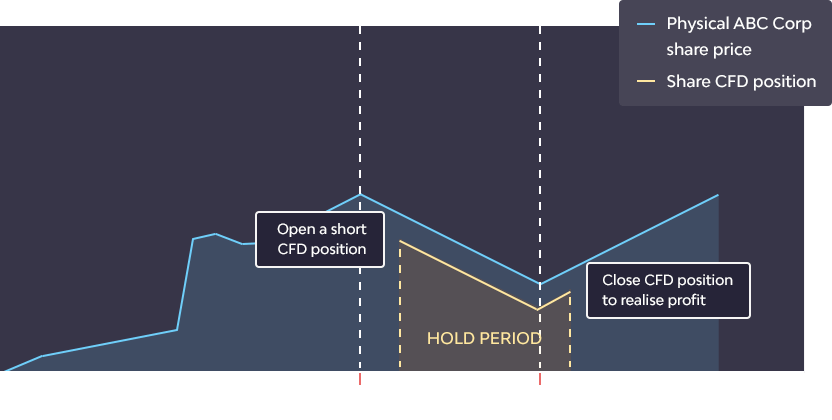 Is CFD trading right for you?
CFD trading offers several major advantages over standard trading and investing, which is why this form of trading and its popularity have grown so much over the last ten years. It is ideal for those just starting out in investing and trading who do not have a large amount of funds, but who wish to try and make a better return on their money. But, as with any trading, using CFDs involves significant risks to your money and may not be right for everyone.
Variety of global markets

All reputable online providers give traders access to thousands of markets ranging from shares and Forex to commodities and cryptocurrencies. You won't need access to several platforms as every market can be traded from your phone, tablet or web browser.

Similar to the underlying market

If you already trade non-leveraged markets, CFDs are designed for you. This is because they mirror their underlying market closely so are easy to understand, unlike other leveraged products like futures and options.

New instruments are easily created, and it is simple to trade a wide range of underlying instruments in small minimum contract sizes.

Short term timeframe

Holding positions in CFDs is normally done for a few days or weeks, unlike investing which will normally take place over an extended period.

You can trade as often or as little as you like and make your own trading decisions. This does mean you need to understand the risks involved with trading leveraged products.small minimum contract sizes.
CFD trading is one of the most popular forms of trading financial markets today. An alternative to trading physical shares and commodities, anybody interested in markets can now access live pricing and buy and sell products at the touch of a button. The opportunity to sell a falling market also allows both market speculation and hedging benefits.