Gold hot streak continues to 5-month highs
Gold prices are maintaining their bullish bias this morning, making a fresh five-month peak as investors fear inflation will persist for longer, attracting demand for bullion as a hedge against inflation.
The precious metal has rallied over 2% since last Tuesday after the latest US inflation figures showed consumer prices accelerated in October. The global energy crunch has eased recently, but growing price pressures continue to worry investors as economic data slows. In theory, gold should benefit if the global economy enters a "stagflationary" period of lower growth and higher inflation.
Real yields depressed
Of course, the shiny metal is still lower on the year, as rising bond yields had seen gold struggle. This is because higher rates reduce the appeal of holding a non-interest-bearing asset. But central banks are now expected to raise rates only gradually to stem the inflationary shock. The Fed's recent announcement for the start of asset purchases has been dampened by signals of delay in rate hikes. This should mean real interest rates will continue to remain in deeply negative territory longer than expected, which should favour gold investment.
The headwind of a rising dollar has also not been denting the attraction of gold recently. The greenback broke sharply higher yesterday against the euro to a fresh 16-month peak. This came after ECB President Lagarde doused rate hike talk as she declared that the conditions for a rate rise in the eurozone were very unlikely to be met in 2022.
Bullish momentum still strong in gold bugs
Gold is certainly on a tear, enjoying eight days of gains in the last nine trading sessions. Resistance around $1800 was initially tough to break decisively. Since then, buyers have taken out stronger long-term resistance at $1834 from the June and September highs. This also tallied with the downtrend from August 2020.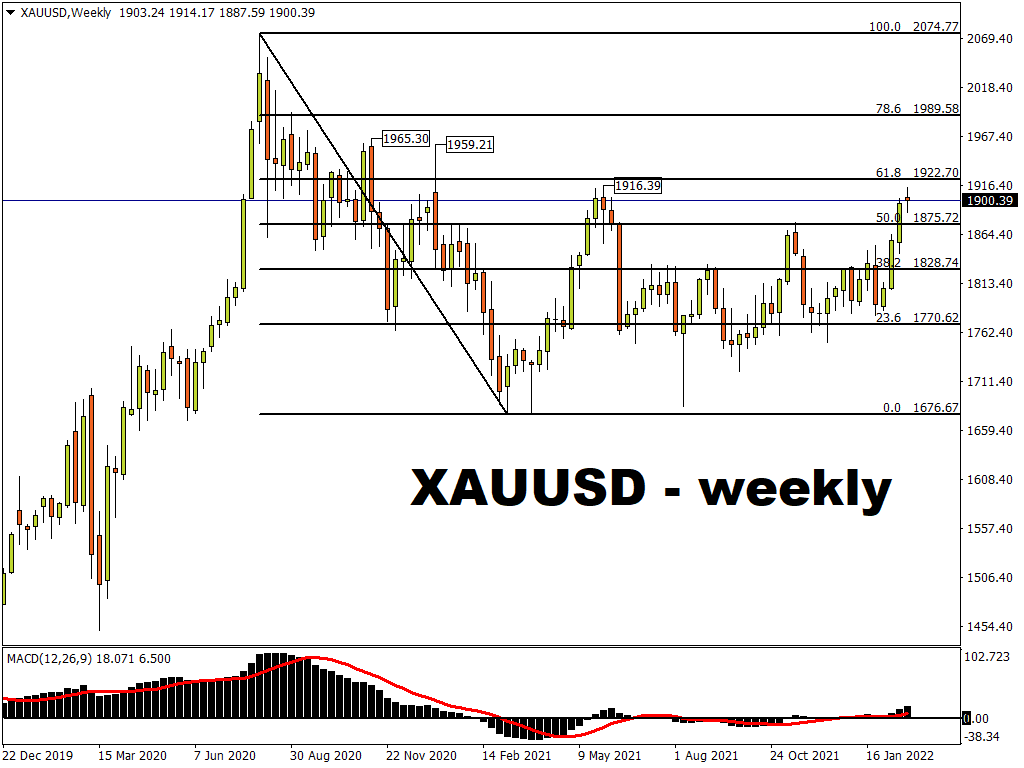 The market is now clearly above the 50-day, 100-day and 200-day moving averages and is potentially building a long-term base. In the near-term, we are slightly overbought on some momentum oscillators so some healthy consolidation might be seen. But the bulls will have their eyes keenly set on a test of the June high at $1916. Any break of this would see next resistance around $1959/65. The record top sits at $2075.