US stocks hit new records as inflation stabilizes
The S&P 500 and the Dow Jones indexes each registered their highest-ever closing prices on Tuesday, as signs of steadying US inflation helped pare back tapering fears.
July's US CPI met the market-forecasted 0.5% month-on-month print, the lowest since February.

Consumer prices climbed 5.4% in July compared to the same period a year ago, which matches June's year-on-year print.
Risk appetite found comfort knowing that, without the persistent surges in inflation, the Fed hasn't been given added reason to bring forward its plans to ease up on its asset purchases.
With the metaphorical punchbowl still intact, it helped pushed funds into cyclical stocks, with materials, industrials and financial counters leading the S&P 500 onto a fresh record high, with the index's futures contracts steady at the time of writing.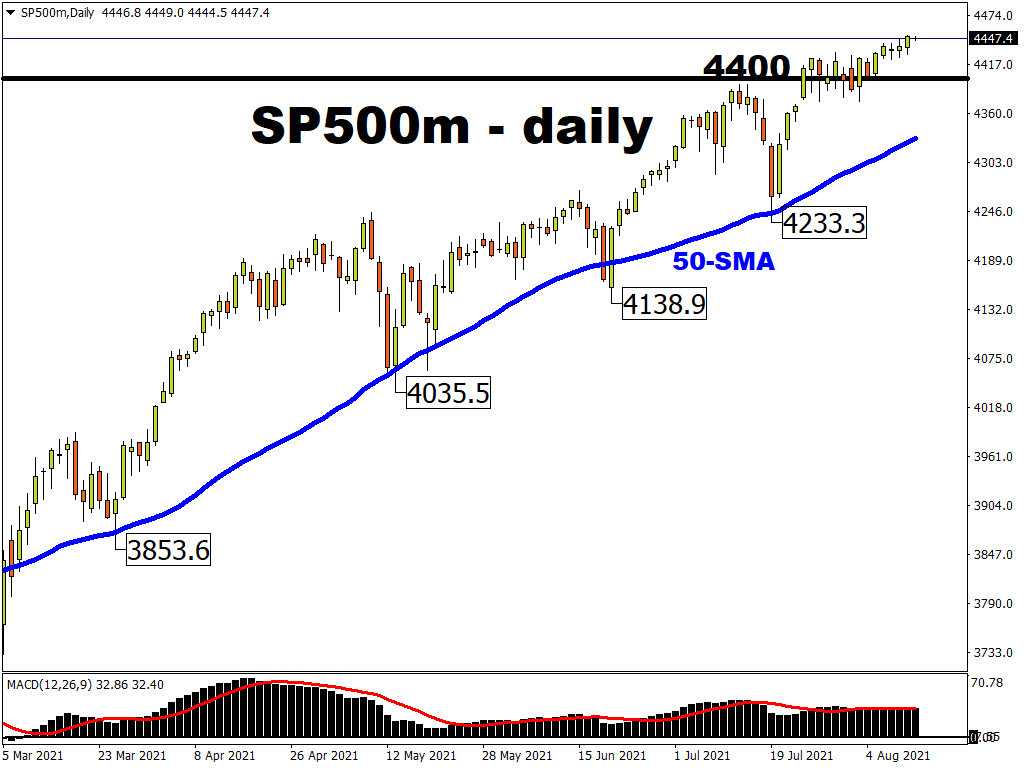 Still, the tapering watch is very much on the market agenda.
Later today (Thursday, 12 August), the weekly US jobless claims will be released, with markets expecting a third consecutive sub-400k print (375,000). If confirmed, that would be the 6th weekly initial jobless claims in the past 7 weeks that have registered below the psychologically-important 400,000 mark.
After all, Fed officials have often stated their priority remains the US labour market recovery rather than surges in inflation, which they deem will be temporary, before taking their foot off the stimulus pedal. Overnight, Kansas City Fed President Esther George, a famed hawk on the FOMC, has already said that "the time has come to dial back the settings".
If more of her FOMC colleagues join that refrain at their September policy meeting and officially announce the Fed's tapering, that could see US stocks unwinding some of their recent gains while pushing the equally-weighted US dollar index onto a new high for 2021.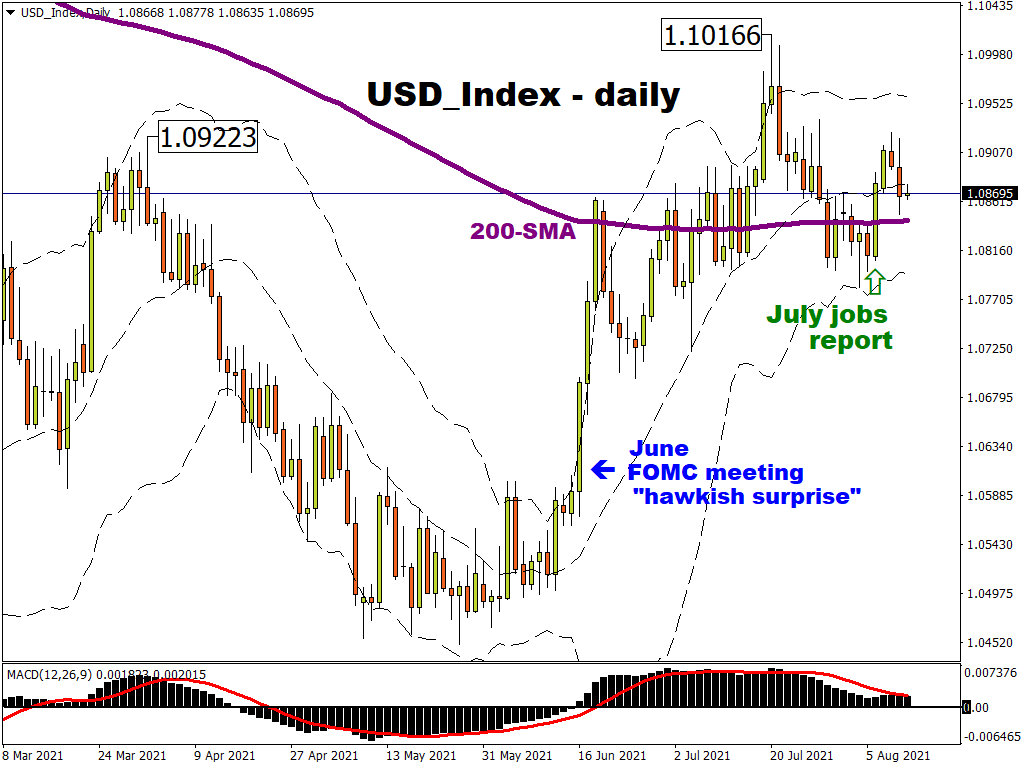 There's also the US consumer sentiment readings to digest tomorrow (Friday, 13 August) and traders will also be parsing through the retail sales as well as the July FOMC meeting minutes due in the coming week.
More cues that the tapering is due sooner rather than later could spell stronger headwinds for US equities, as stimulus measures are prepared to be dialed back, more gains in the greenback tracking a continued rebound in Treasury yields, and more downside for gold prices.
Gold's upside capped by rising tapering expectations
Bullion is now testing its June-low as a resistance level, even as it tries to recover from Monday's flash crash and take advantage of a steadying US dollar.
Overall, with the Fed's tapering due to arrive in a matter of months, it'll be hard to make a sustained bullish call for the precious metal which just recently confirmed a death cross, with such a technical event typically implying that the path of least resistance is to the downside.
Bullion bears will be eyeing Monday's flash crash lows and the year-to-date troughs set back in March as key areas of interest, especially as market anticipation for the Fed's eventual tapering grows over the coming months.