Week Ahead: Can the Nasdaq 100 post a new record high?
Earnings out of Big Tech are set to garner a large share of the limelight in the coming week, which also see these scheduled economic releases:
Monday, October 25
EUR: Germany October IFO business climate

Facebook Q3 earnings
Tuesday, October 26
CAD: PM Trudeau to announce new cabinet?

USD: US September new home sales, October consumer confidence

Twitter Q3 earnings

Alphabet Q3 earnings

Microsoft Q3 (fiscal Q1) earnings
Wednesday, October 27
CNH: China September industrial profits

EUR: Germany November consumer confidence

GBP: UK government's autumn budget released

CAD: Bank of Canada rate decision

US crude: EIA crude oil inventory report
Thursday, October 28
JPY: Bank of Japan decision

EUR: Germany October CPI

EUR: European Central Bank decision, October economic confidence

USD: US Q3 GDP, weekly initial jobless claims

Amazon Q3 earnings

Apple Q3 (fiscal Q4) earnings
Friday, October 29
AUD: Australia September retail sales

EUR: Eurozone October CPI, Q3 GP

USD: US September personal income and spending, PCE price index, October consumer sentiment
Note that the combined market capitalization of Facebook, Twitter, Alphabet, Microsoft, Amazon, and Apple, exceeds US$ 9 trillion. That's over 50% of the total market cap on the Nasdaq 100 index (U$17.76 trillion as of close on Friday, 22 October).
Hence, the announcements out of these companies could carry a lot of weight in determining how the Nasdaq 100 performs in the coming week.
Note how the 100-day simple moving average has offered tremendous support for this tech-heavy index. Over the past 12 months, whenever prices fall below that key technical level, the buy-the-dip mantra roars back and pushes the index to a fresh record high. The Nasdaq 100 is just 2% below its highest-ever closing price registered on 7th September.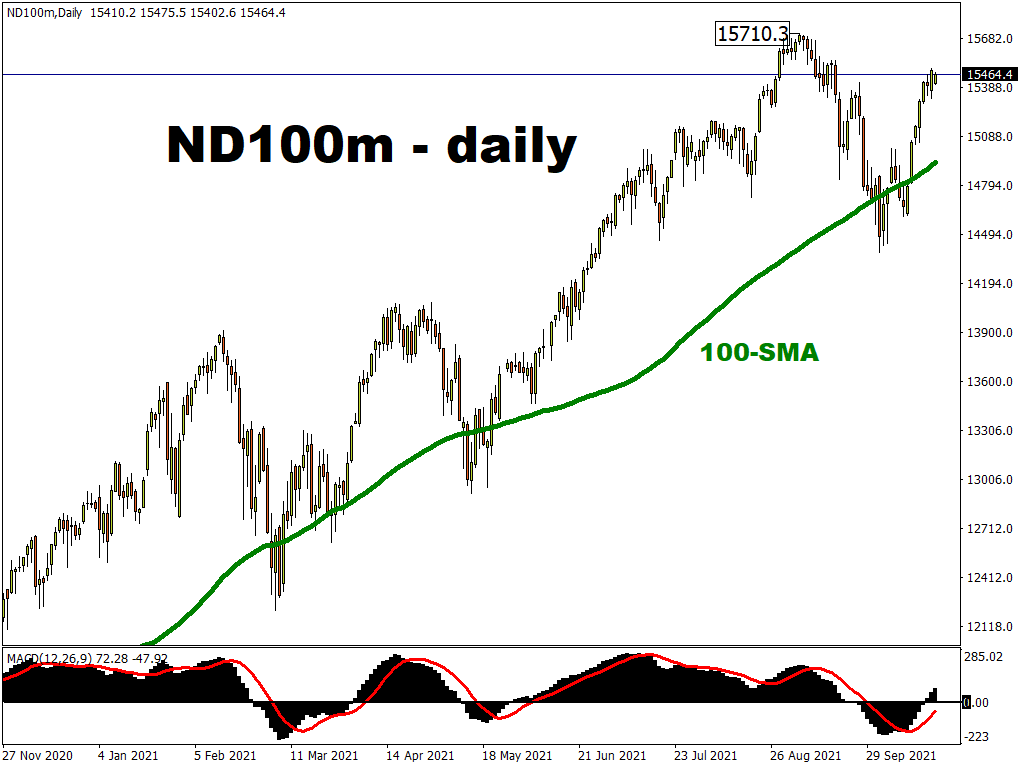 However, setting a new record high could be a bigger ask for the Nasdaq 100 compared to the likes of the S&P 500 and the Dow, both having achieved such a feat this week. This could be partially due to the soured outlooks for social media platforms such as Facebook and Twitter, considering Snapchat's rhetoric offered earlier this week.
Snap Inc issued a drastically-lowered earnings forecast for Q4 2021 of US$175 million versus the market-expected figure of US$299.3 million. The company cited challenges from Apple's new rules imposed on advertisers, as well as the chokehold to global supply chains (think fewer goods that sellers can advertise).
Such commentary has already weighed on the Snap, Facebook and Twitter's stock prices on Friday. Also note that those supply-chain challenges could also weigh on the outlooks for Apple's hardware production and sales, while strangling Amazon's ability to deliver its good to customers worldwide.
Market participants will certainly be cognizant of such headwinds as they parse through the Big Tech earnings due in the coming week.
Hence, it might require an overwhelmingly positive catalyst to push the Nasdaq 100 to a fresh record high before November rolls along.