Week Ahead: US jobs to be read in light of Powell's speech
Before we consider what the coming week holds for markets, let's first dive into Fed Chair Jerome Powell's just-concluded Jackson Hole speech.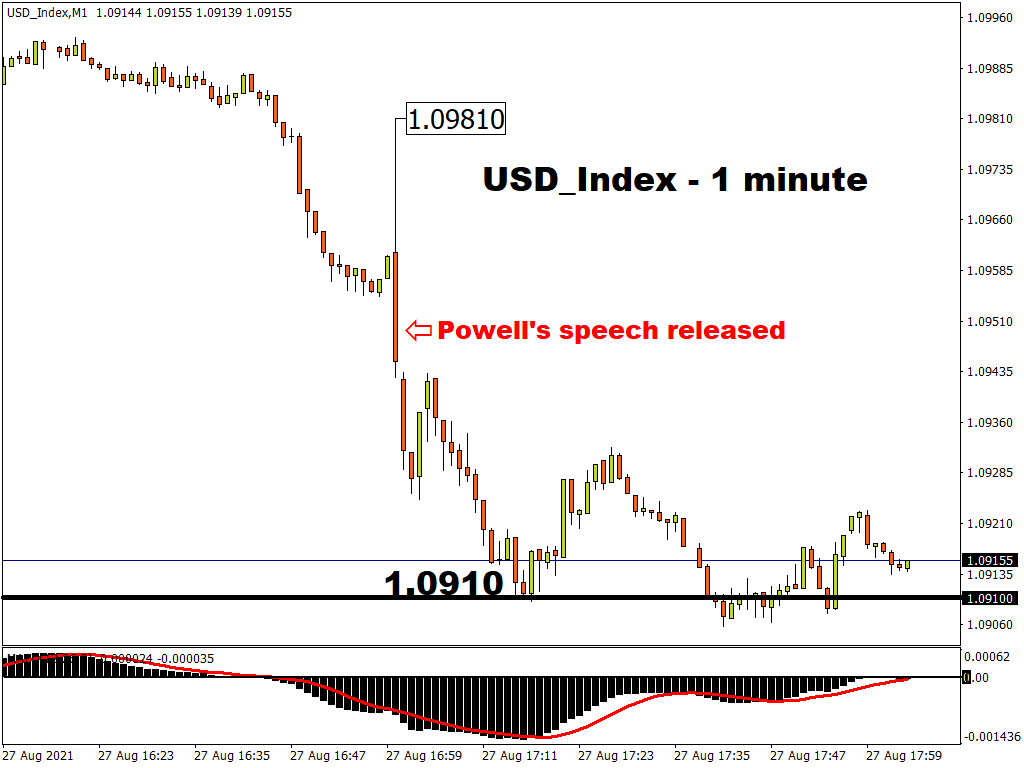 The US dollar shifted lower as Powell's speech started hitting the screens of investors and traders, but the move in the USD index's daily charts suggests that markets weren't shocked by it.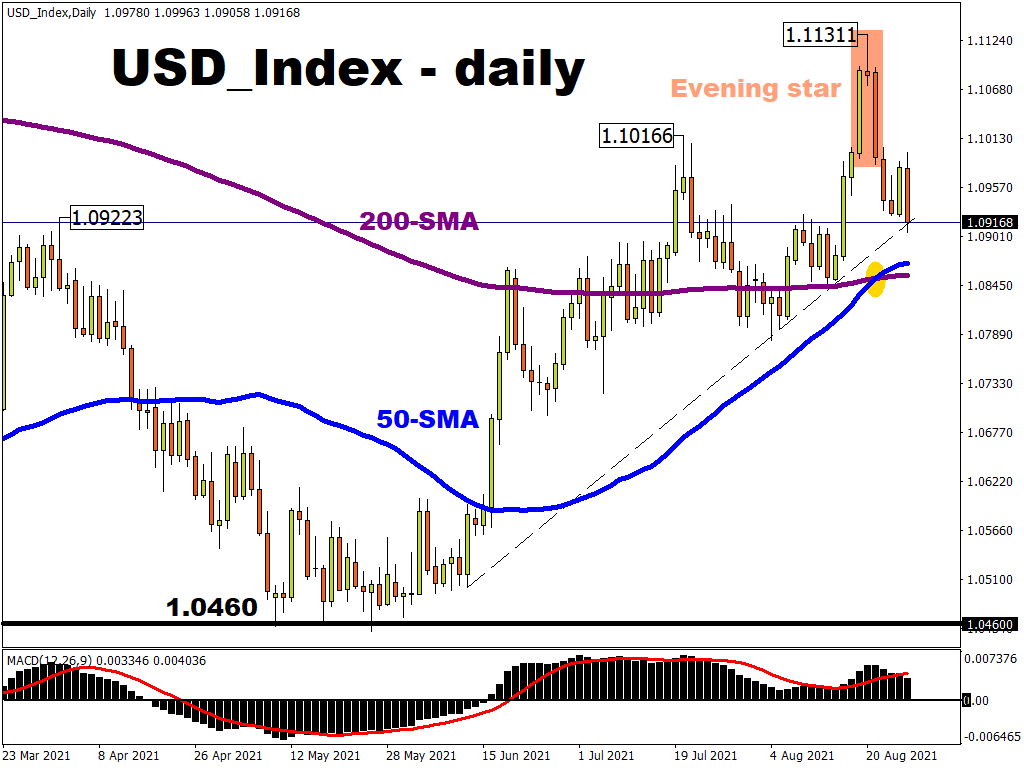 What Powell did say is that it could be appropriate to begin tapering this year. Based on the market's previous thinking, that would suggest a stronger dollar, as the tapering would pave the way for a rate hike.
However, what Powell actually did was to disassociate tapering as a precursor from a rate hike, saying that the former "will not be intended to carry a direct signal" for the latter. Instead, the Fed Chair used Jackson Hole to warn against an "ill-timed move" on rates that could actually hurt the US economic recovery. In other words, the liftoff in US interest rates may be further out than we think.
Powell's words are being deemed as a "dovish taper" signal, hence the lower greenback.
With investors and traders digesting the implications of this separation between the Fed's tapering of asset purchases and a US rate hike (although one can't help but still wonder about the timing of the eventual tightening of the Fed's main policy tool), this would frame the markets' collective mindset as they brace for the August US nonfarm payrolls, along with the other scheduled data due out of major economies in the coming week:
Monday, August 30
JPY: Japan July retail sales

EUR: Eurozone August economic/consumer confidence
Tuesday, August 31
JPY: Japan July industrial production and unemployment

CNH: China August manufacturing and composite PMIs

NZD: ANZ August business confidence

EUR: Eurozone August CPI

CAD: Canada GDP (June, 2Q)

USD: US August consumer confidence
Wednesday, September 1
CNH: China August Caixin manufacturing PMI

Japan, Eurozone, UK, US manufacturing August PMIs

EUR: Eurozone unemployment

Brent Oil: OPEC+ decision on production

US Crude: EIA crude oil inventory report
Thursday, September 2
EUR: Eurozone July PPI

USD:

US weekly jobless claims
Friday, September 3
CNH: China Caixin August services and composite PMIs

JPY: Japan August services and composite PMIs

GBP: UK August services and composite PMIs

EUR: Eurozone July retail sales, August services and composite PMIs

USD: August US nonfarm payrolls,

services and composite PMIs, ISM services index
Wall Street is currently forecasting a NFP print of 750k; a better-than-expected figure would likely then pave the way for the Fed to officially announce its tapering plans at the September FOMC meeting.
Nevertheless, such an announcement may not lead to dollar gains, considering the disassociation that Powell has just outlined at his Jackson Hole speech.
Should markets push back their forecasted timelines for the first US rate hike, that could lead to a moderating US dollar in the interim.
OPEC+ decision may dictate oil's next major move
A softer dollar could then encourage oil bulls to push oil prices higher, as they're doing in the immediate aftermath of Powell's speech.
Investors and traders will soon then pivot their attentions to the key OPEC+ meeting on September 1 about its output levels in the coming months.
Recall that back in July, this alliance of major oil producers, after a 2-week public spat, agreed to raise output levels by 400k barrels per day over the coming months. Back then, there was plenty of optimism about the global demand recovery.
Since then however, the Delta variant has forced lockdowns once more upon major economies such as China, Australia, and New Zealand.
The OPEC+ decision could then harbour meaning for its global demand outlook: to press on with a production hike suggests that global demand is robust enough to absorb those incoming barrels. However, if markets do not share that view and persistent concerns over the Delta variant continue to rage on, that could prompt an unwinding of oil's recent gains.
On the other hand, should OPEC+ decide to delay its intended supply hike, that could push oil benchmarks above their respective 50-day simple moving averages and potentially keep them there.